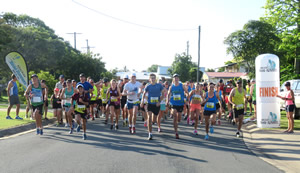 The Mackay Road Runners annual Tilse Toddle 5km & 10km event was a huge success despite the oppressively warm conditions where blazing sunshine beat down unrelentingly upon approximately 100 runners. The 5km two loop course lead runners from the normally quiet streets of West Mackay south towards the Archibald Street roundabout and return.
Club President, Tim Magoffin welcomed many new runners in the huge crowd before announcing the course description and upcoming events, including this Friday night's Mackay Marina Run Launch 5km event from the City Cinema carpark, Gordon Street.
The Mackay Marina Run Launch 5km commences 6pm, nominations of $10 taken from 5.15pm with all proceeds being fully donated to the Leukaemia Foundation.  The Mackay Marina Run committee together with the Mackay Regional Council invite the entire community to walk/run the 5km course which will include awesome river views from the beautiful Bluewater Trail and Forgan Smith Bridge. There will be post run goodie bags and refreshments from a variety of  City Centre restaurants and eateries.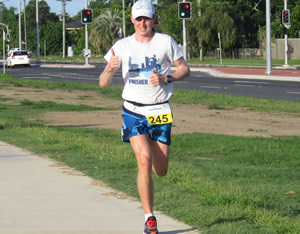 Meanwhile, at the Tilse Toddle new runner to the Club, Julian Picot blitzed the 10km field in the 10km event, leaving many talented runners in his wake.  Julian, whose first few races with the Club this year have been sensational over distances ranging from 5km to 12km, however, he is looking forward to the challenges of a wide variety of distances offered locally on the Club's 2016 program. There were some outstanding feats of endurance from many competitors including second placed Ryan Palazzi, Scott Alcorn, Lance Dyer, Daren Galea, Andy List, Derek Woods, Sandy Strong, Tim Caddy, Greame Harris, Mark McFadzen, Shane Donnollan, Dwayne German, Darren Binstead, Ross Connor, Scott McIntosh, Wayne Simpson, Craig McGahey, Stuart Sprott and Greg Coulson.
An exceptional field of female runners raced the 10km with gold and silver finishers Niamh Buckley and  Ashley Davies new to the Mackay Road Running scene.  Both girls showed a clean pain of heels to place ahead of their rivals, Nikki Giles, Carmel Mahon, Jose Short, Judy Zahn, Karla Hook, Vicki Vickers, Talthia Swan, Lisa Burns, Rebecca Calligan, Kylie Binstead, Cath Riggs, Cath Meng and Jan Smith.
The 5km event was a tough affair with talented junior runners Joshua Bornman, Jamie Sanders, Will Morgan and Hayden Connor running courageously to the finish line.  Top placed female, Rachel Silvestri blazed over the course competing well against the top male and female competitors. Ashlee Scott and Shelley Binney proved themselves a classy pair finishing well ahead of talented Lauren Morgan, Layla Sanders and Jamie Bornman.
Congratulations to all runners on their achievements whether it be a personal best time or striving to complete their distances no matter what the time. With racing conditions absolutely stifling, race hosts will be on task to seek higher authority from the weather Gods for 2017!
Many thanks to race day volunteers including timekeeping team of Jo Hughes/Linda McFadzen, Ange Furdek/Di Morgan; registrar Karen Baker;  merchandising, Ulrika Widdowson and Erin Safe, course markers Glen Baker & Tim Magoffin, course setup, Andrew Short and results/handicapper, Andy List.  A big thank you to all the lovely ladies who brought along goodies for the deserved runners for post-race refreshments.
As well as the Mackay Marina Run Launch 5km this Friday night, runners are looking forward to the first Club Championship race on the calendar…the prestigious 5km event from the Queens Park Rotunda, Goldsmith Street, commencing at 5pm. Runners will be vying for valuable open and age category club championship points towards end of year awards. All runners please note that you will need to be registered with numbers attached no later than 10 minutes prior to race start at 5pm sharp.  All members are to check the volunteer list against the event program on the website to see when you are listed, those unable to do their spot are to find a replacement.  The Club would like to thank everyone for their consideration in arriving early to assist the race day volunteers.
Read More