Running Calendar
There are three programs organised by the Mackay Road Runners: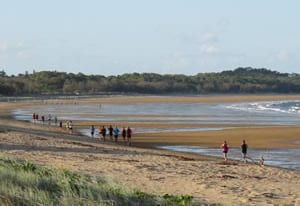 Race Program 2021 
The program for 2021 is displayed below. (Click on the image to open the full calendar with locations and start times.)
Bring your own water for all 12km and under events.
Legend
SOCIAL
No Handicap or Club Championship Points

SCR

Scratch start – Handicap Points

HC

Handicap Race Start – Handicap Points

CC

Club Championship Race – Scratch Start – Club Championship & Handicap Points
TRAIL SERIES
Separate Points Series – Scratch Starts.

*

Event fees applies
Shawn's Summer Series – Oct 2020 to Feb 2021
Summer Series PDF Calendar here.
Coordinators of Summer Socials – at least on in attendance to organise each event.
Jim Ford – 0417 797 346
Janelle Tilse – 0400 997 432
Alana Ford – 0431 217 584
Notes:
All runs unless specifically stated start at 5.30pm on a Sunday afternoon. Everyone welcome with gold coin donation for fruit and refreshments afterwards. Children 12 years and under need an attending adult. Half and full distance courses always available. Please bring a water bottle. All runs are social at your own pace.
Midweek Club Run
When: Wednesdays at 5:30pm
Location: Mackay Aquatic and Recreation Complex, 193 Boundary Road, Ooralea. Organisers: Jim Ford (0417 797 346), Janelle Tilse (0400 997 432), Alana Ford (0431 217 584)
Format: Group social track training for all abilities. Beginners welcome. Children under 12 require an adult co-runner. Challenge for quick runners.
Courses: Mackay Aquatic and Recreation Complex Athletics Track.
(non-club/casual/$3 for lights and track usage)
| Date | Event & Venue | Distance | Gun Time | Type | Map |
| --- | --- | --- | --- | --- | --- |
| Sun Feb 11 | Lighthouse warm up – Mackay Harbour Boat Ramp Car Park, Mulherin Drive, Mackay Harbour | 5km | 5.30pm | SOCIAL | https://connect.garmin.com/modern/activity/692434063 |
| Sun Feb 18 | Tilse's Toddle – 24 Johnson St, West Mackay | 5 / 10km | 5.30pm | SCR | https://connect.garmin.com/modern/activity/1768923328 |
| Sun Feb 25 | Martel Marina Sprint – Mackay Harbour Boat Ramp Car Park, Mulherin Drive, Mackay Harbour | 5 / 10km | 5.30pm | SOCIAL | https://connect.garmin.com/modern/activity/1587297987 |
| Fri Mar 02 | BMA Mackay Marina Launch Run – City Cinema Car Park, Cnr Gregory and Wood St, CBD | 5km | 6.00pm | SOCIAL | https://connect.garmin.com/modern/activity/1072293103 |
| Sun Mar 04 | 5km Club Championship – Rotunda, Queens Park, Goldsmith St, East Mackay | 5km | 5.30pm | CC | https://connect.garmin.com/modern/activity/286234577 |
| Sun Mar 11 | Ocean International Canter – Quota Park, Binnington Esplanade, South Mackay | 5 / 8km | 5.00pm | HC | https://connect.garmin.com/modern/activity/719982539 |
| Sun Mar 18 | K Mart Loop – Gordon White Library Car Park, Phillips St, North Mackay | 5 / 13km | 5.00pm | SCR | https://connect.garmin.com/modern/activity/487131395 |
| Sun Mar 25 | Tim's Pub to Pub – 16 Ocean Ave, Slade Point (Note change of address) | 5 / 16km | 6.00am | CC | https://connect.garmin.com/modern/activity/199324247 |
| Sun Apr 01 | The Zambrero Burrito Bolt – 47 Gordon St, Mackay City | 5 / 10km | 4.30pm | SOCIAL | https://connect.garmin.com/modern/activity/737581633 |
| Sun Apr 08 | Rural View Run – McCready St, Nindaroo | 5 / 10km | 4.30pm | HC | https://connect.garmin.com/modern/activity/731658619 |
| Sun Apr 15 | Hillsborough Hurt Locker (Trail and Sand) – Risely Parade, Cape Hillsborough | 10km | 4.30pm | SOCIAL | https://www.strava.com/activities/1241407891 |
| Sun Apr 22 | Farmer's Long Gallop – 62 Evans Ave, North Mackay | 5 / 17km | 6.30am | HC | https://connect.garmin.com/modern/activity/756777759 |
| Sun Apr 29 | Mt Bassett Run – New Mulherin Park, East Pt Rd, Mackay Harbour | 5 / 11km | 4.00pm | HC | https://connect.garmin.com/modern/activity/1178964235 |
| Sun May 06 | North Qld Games* – Botanical Gardens Ampitheatre, Crowley | 5 / 10km | 7.00am | SOCIAL | https://connect.garmin.com/modern/activity/763511161 |
| Sun May 12 | Casu Jack's Pre-Mothers' Day Run – Casu Jacks Café, Mulherin Drive, Mackay Harbour | 5/ 12km | 6.30am | HC | https://connect.garmin.com/modern/activity/770011820 |
| Sun May 20 | 30km Club Championship – 39 Vassalo Drive, Glenella | 5 / 30km | 6.00am | CC | https://connect.garmin.com/modern/activity/776352438 |
| Sun May 27 | North Harbour Beach Loop – Cathy Freeman Oval, Wren St, Slade Point | 5 / 11km | 4.00pm | HC | https://connect.garmin.com/modern/activity/789710981 |
| Sun Jun 03 | BMA Mackay Marina Run* – Mackay Marina Precinct, Mackay Harbour | 21.1km | 6.30am | CC | https://connect.garmin.com/modern/activity/796210316 |
| Sun Jun 10 | Mengs Cross Country – Mky & Dist Mountain Bike Club (MAD), Rowallan Park, turn off at cnr Holt's Rd & Glendarrah Rds, Richmond | 3.5/7km | 7.00am | SCR | https://connect.garmin.com/modern/activity/803007444 |
| Sun Jun 17 | Forysths Accounting Services 10k Club Championship – Rotunda, Queens Park, Goldsmith St, East Mackay | 5 / 10km | 4.00pm | CC | https://connect.garmin.com/modern/activity/300840744 |
| Sun Jun 24 | The Grove 10 km Handicap Trophy – The Grove Tavern, Andergrove Road, Andergrove | 5 / 10km | 4.00pm | HC | https://connect.garmin.com/modern/activity/817049720 |
| Sun Jul 01 | Blue Water Quay Social – Blue Water Quay, Cnr Brisbane & River Sts, CBD | 5 / 10km | 4.00pm | SOCIAL | |
| Sun Jul 08 | Robbo's 61 Steps – Gordon White Library Car Park, Phillips St, North Mackay | 5 / 10km | 4.00pm | HC | https://connect.garmin.com/modern/activity/830606762 |
| Sun Jul 15 | Blue Water Quay Social – Blue Water Quay, Cnr Brisbane & River Sts, CBD | 5 / 10km | 4.00pm | SOCIAL | |
| Sun Jul 22 | M-Test King / Queen of the Mtn & Laura Pettifer Memorial & Podiatry Mky Junior – Netherdale, Mackay – Eungella Road | 3.2 or 6.4 | 8.00am | CC | https://connect.garmin.com/modern/activity/550267780 |
| Sun Jul 29 | Hillsborough Reef-Forest Run (Trail and Sand) – Risely Parade, Cape Hillsborough (BBQ) | 5 or 9km | 8.00am | CC | https://connect.garmin.com/modern/activity/1280749514 |
| Sun Aug 05 | Blue Water Quay Social – Blue Water Quay, Cnr Brisbane & River Sts, CBD | 5 / 10km | 4.00pm | SOCIAL | |
| Sun Aug 12 | Eimeo Pacific Hotel Run – Eimeo Pacific Hotel, Mango Avenue, Eimeo | 5 / 14km | 4.00pm | HC | https://connect.garmin.com/modern/activity/867070603 |
| Sun Aug 19 | North Qld Bulk Ports Magic Mile – Open/Podiatry Mky Jnr Mile – Breakwater Access Rd, Mackay Harbour | 1.6km | 8.00am | CC | https://connect.garmin.com/modern/activity/1307547276 |
| Sun Aug 26 | Bonson's Scrub Rd, The Leap – Meet at Coningsby State School at 3.30 pm for car pooling to start line | 6 / 12km | 4.00pm | HC | https://connect.garmin.com/modern/activity/113420660 |
| Sun Sep 01 | Pre-Father's Day Run @ Mackay parkrun – Botanical Gardens playground, Cnr Mackay Bypass Rd and Jackson St, West Mackay | 5 / 10km | 7.00am | SOCIAL | https://connect.garmin.com/modern/activity/1127396532 |
| Sun Sep 09 | Shield's Stampede – 21 Karl Langer Crescent, Mt Pleasant | 5 / 12km | 4.00pm | SCR | https://connect.garmin.com/modern/activity/520857970 |
| Sun Sep 16 | Benita Willis 10km Bluewater Lagoon – Caneland Park (Behind Bluewater Lagoon), River St, Mackay City | 5 / 10km | 4.00pm | HC | https://connect.garmin.com/modern/activity/896777330 |
| Sun Sep 23 | 3km Club Championship – Rotunda, Queens Park, Goldsmith St, East Mackay | 3km | 4.00pm | CC | https://connect.garmin.com/modern/activity/601207266 |
| Sun Sep 30 | The Jungle Run – Botanical Gardens playground, Cnr Mackay Bypass Rd and Jackson St, West Mackay | 5km | 6.30am | SOCIAL | https://connect.garmin.com/modern/activity/1387084332 |
| Sun Oct 07 | Eungella Trail Run – Meet at The Eungella Chalet* – Meet at the Eungella Chalet, Eungella | 21.1km | 8.00am | SOCIAL | https://connect.garmin.com/modern/activity/478731095 |
| Sun Oct 14 | Bye weekend – Rest up and prepare for next week's presentation night | | | | |
| Sun Oct 20 | Mackay Road Runners Presentation Dinner – Mackay Surf Club, East Point Drive, Mackay Harbour | | 6.30pm | SOCIAL | |