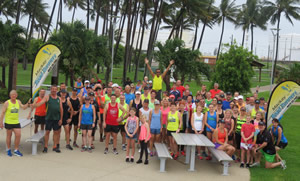 Mackay Road Runners, who will be celebrating its 40th anniversary this year, had a very successful 5km social event for their first official run on the Club's 2016 Calendar despite the consistently rainy conditions.  Over one hundred runners thoroughly enjoyed the light showers which was a welcome relief to the recent stifling humidity runners have endured in the off season.
Club President, Tim Magoffin welcomed and thanked the huge crowd for their attendance, including all new and past runners as well as the many volunteers who helped out with registration, merchandising, race set up, photography, etc….. Tim congratulated the many new and familiar faces lining up for what it looking to be a great year for The Mackay Road Runners' 40th Anniversary year, where there promises to be several anniversary highlights throughout the year.  The club will also have 40th Anniversary singlets with "your running fix since 76″…see Erin or Ulrika to place your order.
All runners thoroughly enjoyed the pleasantly cool and misty conditions in the 5km event in lieu of the usual heat and humidity which generally prevails for the first run on the annual program.  The 5km course  was a very scenic one taking runners from the Harbour Lighthouse/boat ramp precincts onto the beautiful Breakwater and return.  Several runners who kept up their training offseason were in great form, performing extremely well including Tim Caddy, Ashlee Scott, Rachel Silvestri, Levi Alexander, Carl Pinkstone, Julian Picot, Chelsey Thompson, Lindsey Wiggins, Jack Simpson, Darren Binstead, Aidan Donnollan, Melissa Harris and Angie Furdek.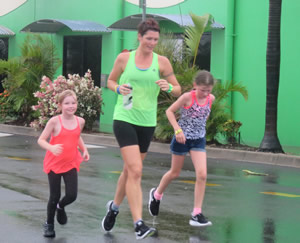 Runners can visit this Sunday's Mackay Regional Council Sports Expo at the Mackay Entertainment and Convention Centre where the Mackay Road Runners as well as hundreds of other sporting clubs and associations are showcased under one roof. Those interested in checking out the Mackay Road Runners are welcome to visit their stall at the MECC where you will find them as you enter the Expo via the Club's huge inflatable start/finish arch.  Mackay Road Runners volunteers will be on hand to offer loads of information on how to join their club as well as answering all your queries.
Many thanks to all the volunteers helping at the Expo, as they will then be lining up to race the same afternoon at the 5km  & 12km Shields Stampede from 21 Karl Langer Crescent, North Mackay.   Our generous hosts and Life Members, Merv & Wendy welcome runners to their home for the annual event commencing 5.30pm.  Runners are reminded to arrive at least 30 minutes prior to the start so that they can sign on and warmup as registrations will definitely close 10 minutes prior to racing.  This then allows all volunteers the opportunity to pack up and warm up for themselves.  Please consider and thank your volunteers and sponsors as these events would not be possible without them.
Members are also reminded to check in with Volunteer Co-ordinator, Paul Tilse to register your name for at least one event where you will be available to volunteer for timekeeping or water stop duties.  Paul will need to allocate members in vacant areas to ensure all the spots are filled, therefore, runners are requested to check in with Paul ASAP so that you can choose a date to suit you.   Many thanks to the heaps of members who have contacted Paul already, this is so much appreciated, the club is very fortunate to have so many willing helpers.
Mackay Road Runners would also like to thank the incoming 2016 Management Committee who were duly elected at the Club's recent Annual General Meeting.  The Club has a great team, headed by President, Tim Magoffin, who have already been working very hard organising a bigger and better 2016 for its Members.
Those wishing to join the club are invited to register online ASAP so that they are immediately eligible for handicap and club championship points. For any further updates or information, check out this website or phone The Secretary 0403 344 289 or Janelle 0400 99 7432.