Ultra Marathon Challenge
24 Dec 2012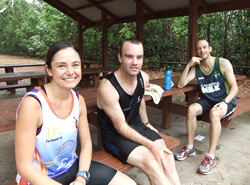 Running 56km across the Mornington Peninsula from Dromana to Cape Schanck and back again is going to be one huge challenge for first time Ultra Marathoners, Mackay Road Runners Club marathon runners, Anne Miller and Graeme Railton. The race will commence at 7am on Sunday 13th January, so there will only be a small amount of over indulging over the Christmas/New Year break for the avid runners. Anne and Graeme had one last trail running session with Scott Bundell, Janelle, Paul and Lainie Tilse from Mackay Road Runners through the National Park at Cape Hillsborough last Sunday in very wet, but extremely humid conditions. Both runners are looking forward to the challenge of testing themselves in their first attempt at 56km and are wished well by the local running fraternity and their families.
Another one of Mackay's leading elite runners, Shawn Claydon, will also be stretching his limitations whilst on a four day rigorous training camp in southern New South Wales from Boxing Day. Shawn will relish in the tough program set down by qualified elite coaches and no doubt, return home with an abundance of knowledge that he generously shares with many local junior and senior athletes.
Mackay Road Runners 2013 program has been updated. New and existing runners are most welcome to join the off season, no cost training sessions, offering varying venues and distances to suit a wide range of abilities and individual goals.