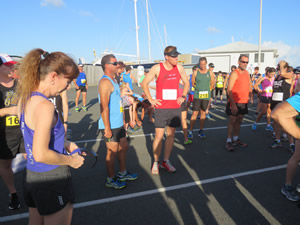 Mackay Road Runners staged its annual Martel Marina Sprint from the Harbour Lighthouse boat ramp precincts.  The Martel race is named after one of the Club's Life Members and legends of local racing, Charlie Martel, who now lives in Brisbane. Charlie was one of Mackay's top runners, winning events over several years in sensational times in a wide range of distances from 1.6km (mile) to the half marathon.  Charlie is most famous for his record number of Eungella King of the Mountain crowns where he still holds the race record of 27 min 51 sec set in 1991.
Meanwhile, runners who took on the Martel Marina Sprint 5 & 10km events need to be congratulated on their tenacity and endurance in conditions that had temperatures soaring in the mid-thirties and humidity that felt like the high nineties!  Thankfully the sea breezes prevailed as 5km runners traversed the beautiful Southern Breakwater and return with those doing the 10km adding another loop.
There was excellent running by all runners despite the tough conditions with Shawn Claydon sprinting the 10km event in a great return to racing for the first time this season.  Shawn, who is the current male Club Champion, looks set for another successful season, however, the return of Daren Galea, also for the first time this season, looks in fine form as well.  Congratulations to Daren and Karlee on their return to running after the safe arrival of their beautiful baby boy just six weeks ago.
The top female contingent were running very strongly at the front of the 10km with the likes of Ashlee Scott, Alana Ford, Nikki Giles, Carmel Mahon, Jose Short, Vicki Vickers and Karla Hook all in great contention for podium finishes this year.
Competitors in the 5km were also in outstanding form, with many runners wisely choosing the shorter distance due to the risky perils of dehydration if not fully prepared.  Jamie Sanders ran extremely well even after a recent ankle injury kept him on the sidelines for several weeks.  Jamie is one of the Club's top class juniors alongside Will Morgan, Rachel Silvestri, Layla Sanders, Lauren Morgan, Hannah Morgan and Hayden Connor.  Twelve year old Matthew Magoffin, who is a relative newcomer to running, was very excited to clock an impressive personal best time in the 5km event.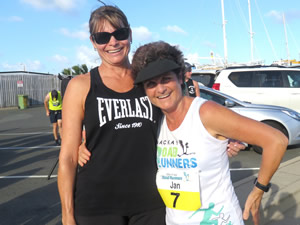 The Club would like to thank all the volunteers on race day who gave up their run to assist all competitors with timekeeping, race setup and tidy-up, merchandising, race registration, water stop, etc….where would we be without you!  Thanks also to all the behind the scenes work that creates the weekly events into the success that they are, a lot of work is conducted by the hardworking committee and their assistants.  The Committee including Erin Safe, Ulrika Widdowson and Sandra Henderson are working on several merchandising ideas including new banners, hard copy photo calendars, 40th Anniversary celebrations where all will be revealed throughout the year….so watch this space….or ask at any of the upcoming weekly events for further info.
Runners are reminded to ensure that are registered and paid up with their race numbers pinned on at least 30 minutes prior to racing.  Registrations will close strictly 10 minutes before the gun time, thus enabling volunteers to ready themselves for their own event.  Volunteers are Club Members who love to run, however, it would be much appreciated if full consideration was given to assist them by adhering to all rules as instructed by them and the Race Announcer/Director.  Runners also need to be very aware of their surroundings as they run on public roads and pathways that are shared with vehicles and cyclists, therefore, please give way to traffic at all times!  It is also strongly recommended in the current climate to be very aware of your individual hydration requirements, not just on race day, but through the week before and after training and racing events.
The club welcomes new and returning Members and would invite any spectators/supporters of their friends and families to register their interest to assist wherever and whenever possible.  The Club has a great reputation of being very inclusive, so if you're not into running and would like to volunteer, especially on race day events, we would love to have you.  Timekeeping is an integral role in the club, so any assistance would be gratefully accepted.  The Club Handicapper/Results Co-ordinator, Andy List is an expert on the timing devices and willingly teaches all volunteers.
Runners are now looking forward to this Sunday's 5/10km Tilse Toddle from 24 Johnson Street, West Mackay.  Paul and Janelle host this annual event from their residence, therefore, residents of Johnson Street, apologies in advance for the influx of vehicles and pedestrians from approx 4.30pm to 6.30pm.  Runners and supporters are welcome to stay for post-race refreshments.
For any further information on the Club's many events, please check out the calendar or Facebook or phone Janelle 0400 99 7432.