9km Tourist Info Social Run
December 28 2014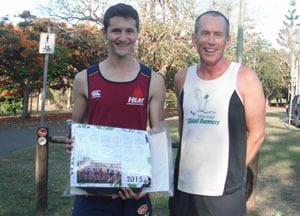 Approximately thirty Mackay Road Runners met last Sunday afternoon for the weekly, off season, casual training run from the Tourist Information Centre, City Gates, Nebo Road.  The 9km event could be adjusted to suit all abilities and with the extremely humid conditions, runners sensibly paced themselves over their chosen distance.
Club Captain, Jim Ford, once again set another interesting concept course, which included teams doing double loop circuits through the Botanic Gardens before finishing with a short lap onto the Peak Downs Highway. Runners were then treated to well-deserved post-race refreshments, although the brownie chef was on strike this week much to the disappointment of Suranjan. All runners performed extremely well, including Martin Lambert, Mark Pashalis, Gabby DeBoni, Kyra Brownsey, Ashlee Scott, Jenna Bugeja, Rachel Sylvestri, Travis Mumford, Hayden Connor,  Jamie Sanders, Leanne Connor, Julie Whibley, Layla Sanders, Marie Muscat and Russell VandenBosch.
A highlight of the run was Jim Ford performing a special going away presentation to Liam Mumford, who will be moving early next month to USA's West Virginia University of Charleston.  Liam, who has been offered and happily accepted an Athletics Scholarship from the University, will also be studying for a Sports Science degree whilst training and racing throughout the many athletics meets that the country has on offer. Liam will be returning to Mackay in May for a short break to race in a couple of his favourite local events, the Eungella King of the Mountain and the BMA Mackay Marina Run.  Best wishes to Liam, who will not doubt do himself, his family and Mackay proud whilst he is in the States.
This Sunday's casual training run commences 5.30pm from the southern end of Diesel Drive, Paget, where runners can look forward to another unique 'Jim' course.  The Wednesday 5km social run at 6pm on 31st December will commence from Metro Cafe, River Street (as per Xmas Eve)  in lieu of the usual Bluewater Quay precinct due to major New Year's Eve celebrations being held at the Quay.  The venue will return to normal the following week being the first Wednesday run for 2015.
All interested persons are reminded to check out www.mackayroadrunners.com.au for the official 2015 program or for any queries, you are welcome to phone Janelle 0400 99 7432.