New Committee Meet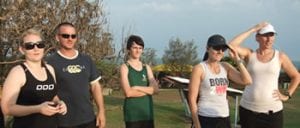 The first committee meeting prior to the 2012 running season was held recently at the G&S Engineering offices at Paget, courtesy of new Club President, Tim Magoffin. The committee engaged in proactive discussions relating to continuing the great work created by the outgoing 2011 committee, all with one thing in common, ie retaining the Club's policy of being an all inclusive Club benefiting runners of all ages and abilities. A very big congratulations to the previous committee for an awesome job and a heartfelt thanks for passing on their precious knowledge and experience to the incoming committee. The formal 2012 season gets underway February through to October with social, no cost, group training sessions for varying distances all year round. Club fees for 2012 have slightly increased are due by 31st March – $50 Seniors, $25 Juniors, Family $100 with a weekly race fee of $2 for members and $5 for non-members. The club currently has a wide variety of racing distances on the Calendar ranging from 1.6km to 28km, although this also can be extended to include Marathon events (42.2km) where runners can set goals to run out of town events including, but not limited to the Gold Coast, Hamilton Island, Townsville, Brisbane, Melbourne, Sydney, Canberra, Burnie (Tas.), Boston, Zurich, England, etc… The Club invites input from all Members so that ideas can be discussed for approval at the monthly Committee Meetings (2nd Monday) – all members are most welcome to attend the monthly meetings.
For further information on any club events, check out www.mackayroadrunners.com.au; facebook or email roadrunnersmackay@gmail.com
Meanwhile, at last Sunday's social 10km training run at the Mackay Harbour, champion runner and current Male Club Champion, Shawn Claydon set a very challenging, but beneficial course which included hills, sand dunes, beach running, situps,etc. The very humid, windy conditions prevailed for the entirie session, with the added incentive of thunder and lightning to speed the runners along. Several runners including Lisa Burns, Anthony and Cooper enjoyed the course, particularly the sandy bits.