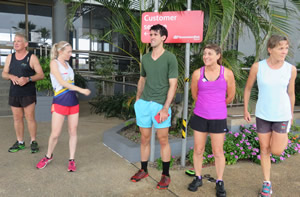 A small, but dedicated group of approximately twenty Mackay Road Runners relished the low humidity and glorious rain last Sunday afternoon for the 6/8/11km Plant Paget event from the Railway Station carpark, Paget.  Race Director/Club Captain, Jim Ford's original course concept was amended due to the day's continual rainfall which was a welcome relief from previous offseason Sunday events.
Runners enjoyed the variety of several course options as they left the Railway Station precincts onto the pathways of Paradise Street into Evan Street. While the shorter course athletes turned at the skate park roundabout, the rest of the field continued East down Evan Street.  All 8k runners turned off at Juliet Street towards Bridge Rd, whilst the 11km runners headed towards Town Beach into Iluka Street, meandering through parklands to link up with Binnington Esplanade at Ocean International before heading for home via Bridge Road and Paradise Street.
The precipitation was prevalent throughout the entire course however it did ease in the later stages allowing runners to coast across the line in slightly sprinkly rain.  Despite the watery conditions, runners enjoyed the amended course where they regrouped at regular checkpoints to include the slower runners. Many thanks to Jim for organising a great course once again, much appreciated by all runners including Paul Tilse, Kim Saron, Lindsey Wiggins, Jose Short, Carl Pinkstone, Alana Ford, Andrew Short, Anthea Ford, Bernadine McKinnon, Robyn Richards, Adam Knezevic, Jay McCulloch, Scott McIntosh, Simon Henderson and Janelle Tilse.  Runners also enjoyed some well-deserved post-race fruit and cake during a brief window of clear sky shortly before the heavy clouds opened up again, causing runners to cut the usual banter and scuttle to their cars.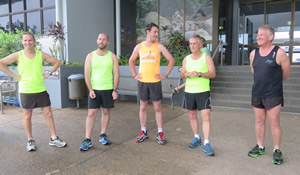 Mackay Road Runners will meet again next Sunday at 5.30pm at Magpies Sporting Complex carpark for another innovative course to look forward to.  This will be the second last run on the offseason social program, with the formal 2016 Mackay Road Runners calendar commencing on 7th February at 5.30pm at the Mackay Harbour Boat ramp.
This year promises to be another enjoyable and successful year, especially as it is the 40th Anniversary year for the Club. Check out the calendar for regular weekly runs, including Signature events, training groups, etc…. available to all new and existing members.  Runners are reminded to join up online with one of the region's most inclusive sporting groups, Mackay Road Runners, for a great year of running and comradery….look forward to seeing you soon.
For further information check out the website, ph the Secretary 0403 344 289 or Janelle 0400 99 7432.