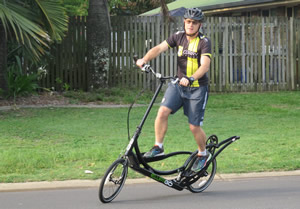 Approximately forty Mackay Road Runners enjoyed the 4.5km & 9km  events last Sunday from Magpies Sporting Complex.  The very humid conditions prevailed throughout the entire afternoon, with several runners opting for the shorter course in the extreme heat.
Whilst our usual Sunday Race Director, Jim Ford was away, Simon Henderson, ably stepped into his shoes to offer the course description where runners noted their time upon completion and a mystery time was noted secretly before the race.  Whoever, came in closest to the secret time, was the winner…..and there were prizes!!!!!  Congratulations to Ange Furdek for winning the shorter course and Greame Harris for taking out the longer distance title.
Despite the humid conditions, there was some awesome running efforts from all the runners including Ashlee Scott, Rachel Silvestri, Travis Mumford, Ryan Mumford, Ulrika Widdowson, Bill Robinson, David Vincent, Craig McGahey, Jo Skinner, Russell Vandenbosch, Carol Brown, Carmel Mahon, Karla Hook, Stephen Oberg, Wayne Simpson, Alison Friswell, Carl Pinkstone and Leanne Connor.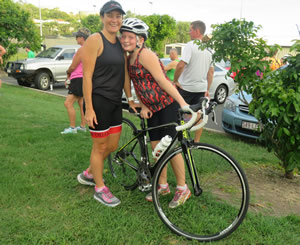 Santa was very generous to Mackay Road Runners Ultramarathon runner, Martin Lambert, who scored himself an awesome ElliptiGo trainer. Martin was ecstatic with the Big Man's choice, which will enable him to do low impact cross training and even assist should he, perish the thought, gain an injury through all the kilometres he puts his body through in an endeavour to conquer his long distance running goals.  Martin gave the crowd of very interested runners a demonstration of the unique ElliptiGo, so don't be surprised if you see more of them riding the paths and streets of Mackay….a very useful piece of equipment.
Mackay Road Runners are now looking forward to this Sunday's last offseason social run from the Harbour's North Wall at 5.30pm.  With Jim still away, the course is looking like being a gentle beach run, hopefully on hard said, depending on the tidal movements,  towards Lamberts Beach, with possibly a 'little' sand dune or two on the way…great strength training especially as runners will be heading into the formal running season the following week.
Intending Members are invited to join up with the Club online asap, so that any handicap and club championship points start accruing immediately.  Mackay Road Runners will also be at the Mackay Regional Council's Sport's Expo on 14th February. All new and existing Members are very welcome to attend any of the Club's weekly events throughout the season which commences February and goes through until October.
For further information, visit website, Facebook or phone the Secretary 0403 344 289 or Janelle 0400 99 7432.