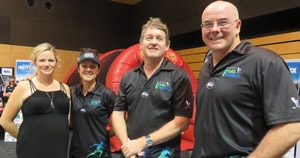 Mackay Road Runners had a very successful Sunday for their Club, starting out in the morning at the Mackay Regional Council's Sporting Expo and ending at the Shields Stampede in the afternoon.  The Expo was a huge day for the club with their blow-up start/finish shute the main entrance feature for the Expo as well as many new and existing enquires at the Club stall located just inside the MECC precincts.  The Council is to be congratulated on a wonderful annual event, giving all sporting clubs and associations the opportunity to showcase their specific sporting activity.
The Club also held its annual Shields Stampede 5km & 12km  running event from the home of the Club's Life Members Merv & Wendy Shields.  In the 40th anniversary year of the Club, it was even more special as Merv, who was a very talented marathon running legend in the 80's and 90's, wore his race singlet from his Mackay Marathon in 1984, taking gold in an exceptional time of 2hrs 26 min 47 sec.  Merv was a standout marathon runner, not just locally but state-wide and nationally, taking out several marathons events with his exceptional running ability.  Merv, who is currently suffering an injury, ran the 5km Shields Stampede event in the 32 year old singlet and proved quite easily that he could fit into it with no sucking his tummy in required! Merv & Wendy have been involved as runners and generous sponsors of the Club from its inception in 1976, earning themselves the respect of all Club members and the wider community.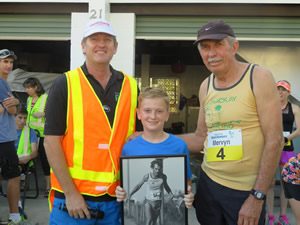 The Shields Stampede attracted approximately one hundred runners across both events, which was a sensational effort especially in the steamy conditions that prevailed throughout the day.  All athletes performed very well across both events as they endured the many undulating hills that the course offered.
In the 5km event, junior runner, talented Rachel Silvestri took outright first in 19 minutes 45 seconds ahead of fast finishing Will Morgan (19:51), with Lindsey Wiggins claiming bronze ahead of Ashlee Scott. Other 5km specialists to perform well were Lauren Morgan, Chelsey Thompson, Jamie Sanders, Layla Sanders, Jay McCullach, Karen Low, Karen Baker, Alex Anderson, Charlie Bone, Anthea Ford, Wayne Simpson, Alison Friswell, Natasha Steenkamp, Hannah Morgan, Kim Saron, Cilla Martland and Ulrika Widdowson.
The longer race was a tough outing as well, which included the treacherous hills of Norris Road and Bona Vista Drive in the final two kilometres.  Approximately fifty runners were well relieved to conquer the testing course as they meandered down James Croker Avenue towards the finish line at Karl Langer Crescent and the well-deserved post-race refreshments.  Excellent running by all athletes including Darren Binstead, Scott Alcorn, Stephen Oberg, Andy List, Greame Harris, Tim Caddy, Carmel Mahon, Sandy Strong, Alana Ford, Andrew Short, Judy Zahn, Peter Ford, Vicki Vickers, Ange Furdek, Greg Coulson, Melissa Harris, Emma Goodman-Jones, Stephanie Allan, David Isbister, Shane Barben, Kylie Binstead, John Rodden, Stuart Sprott, Robyn Madill and Paul Tilse.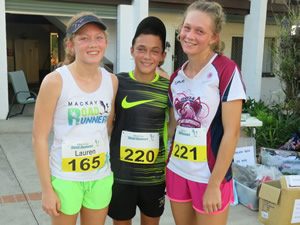 Many thanks to ALL the volunteers at the Sporting Expo with many of them fronting up again to help out at the afternoon run with great course marking and description by Martin Lambert, excellent race setup by Andrew Short, Tim Magoffin, Andy List, awesome timekeeping by Jo Hughes, Leanne Connor and Hayden Connor, outstanding waterstop duties by Ross Connor for the VERY needy runners, sensational registrar and merchandising by Karen Baker and Ulrika Widdowson as well as photographer assistants ….all so much appreciated.  Mackay Road Runners also extend our thanks once again to the race hosts and their neighbours for allowing one hundred runners and their cars to take over their house and street at this time every year!
With next Sunday's event commencing from the Harbour Boa ramp precincts at 5.30pm, competitors are reminded to ensure they arrive at least 30 minutes prior to the event so they can sign on and warm up with their race numbers attached.  This is critical in assisting the timekeepers to record all runners as they cross the line.  Pre-race instructions must be adhered to in every way to ensure the safety of all runners and for the ease in collating results for the Handicapper/Results Co-ordinator, Andy List.  Andy does a great job, but it takes an enormous amount of work on his Sunday evening to have the results processed for viewing on line in a timely fashion.  The respect and consideration to all our volunteers is very much appreciated.
Members are also requested to check in ASAP with Volunteer Co-ordinator, Paul Tilse to register your selection of one event to help out at so that all races can run efficiently. Members may be allocated an event if no preference is supplied, therefore, please check the calendar however, if members are unable to volunteer, it would be appreciated if they please seek a replacement.
Congratulations and welcome to all the new and returning runners….. for updates on any of the Club's upcoming events and news, please check out the website, Facebook or phone The Secretary 0403 344 289 or Janelle 0400 99 7432.