Tourist Info Centre 10km
Dec 29 2013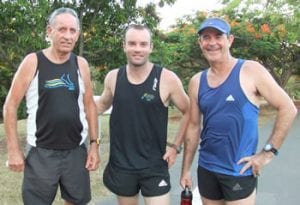 Approximately thirty Mackay Road Runners met at the Tourist Information Centre last Sunday in very oppressively humid conditions to tackle the University/Botanic Gardens 10km.  Sweltering temperatures certainly slowed the participants to a sensible pace as they cruised from the City Gates towards the Central Queensland University Grounds before backtracking for an additional 5km loop of the Botanic Gardens. Top end runners, Shawn Claydon, Liam Mumford and Ashlee Scott led the social group through the meandering pathways and roads to the finish line whereupon all runners were then treated to some welcome post-race refreshing fruit.
With the Christmas pudding only just settled, runners are now looking forward to the first New Year social 5km run from the Bluewater Quay on Wednesday, 1st January 2014. New and existing runners of all ages and abilities, who either have or have not over indulged the night before, are most welcome to initiate their first fitness activity towards their New Year's resolutions.
This Sunday's social off season 10km event will commence 5.30pm from the southern end of Diesel Drive, Paget with varying distance options. Course Director Jim Ford will issue course instructions on the day, whereby runners will be treated to his usual unique style…..just to make life interesting!
For further information on Mackay Road Runners and their full list of events for 2014, check the calendar; ph the Secretary 0403 344 289; Publicity Officer, Janelle 0400 99 7432