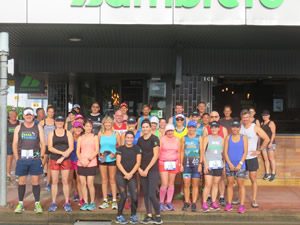 Approximately fifty Mackay Road Runners were very fortunate when the sky cleared just in time for the annual Easter Sunday Zambrero Burrito 5 & 10km Bolt social events. After a bout of consistent rain all day and more chocolate than they cared to admit, runners were very excited to tackle the flat fast course, despite the post rain humidity. Club President, Tim Magoffin briefed the runners on the out and back course, reminding them of their own responsibility with road safety as they tracked their way towards the Bluewater Trail.
Zambrero's Manager, Peter Quinn, was once again an excellent host and supporter of the Mackay Road Runners annual Burrito Bolt, where his very congenial staff were great in attending to the Mackay Road Runners barrage as well as their regular clientele. Zambrero's awesome food and beverage menu, which was hard to resist, was enjoyed by the runners and their families which in turn supports Zambrero's ethical trading cause in beating the huge World hunger issue.
Mackay Road Runners welcomed many new and returning runners as well as this year's Relay for Life Ambassador, Mark Rainsford. Mark, who was previously involved with the Club through his children, has strongly fought through his cancer and subsequent treatments to bravely tackle the 5km event where he successfully conquered the awesome Bluewater Trail course.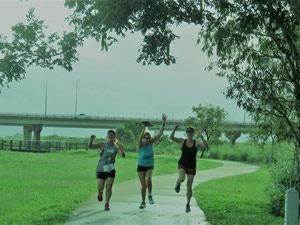 Great to see the return of Russell VanDenBosch and Marie Musat, who performed extremely well in addition to regular runners including, Kim Saron, Jenene McLellan, Danelle Thompson, Jo Hughes, Carmel Mahon, Carolyn Steginga, Glynis Forse, Jo Ashford, Matt Graves, Mitchell Thompson, Jo Skinner, Tam Wanstall, Arthur Dick, Martin Lambert, Shane Barben, Derek Woods, Tim Magoffin, Cilla Martland, Jenny Smith, Stephen Oberg, Anthony Blines and Teresa Hackney.
This Sunday's 5/10km Rural View handicap start event commences McCready Street at 4.30pm sharp, therefore, all members must have their timing chip laced onto their shoe as well as their member number pinned to the front of their shirt. Runners are requested to park across the road at the Shopping Centre near the Northern Beaches Bowls Club so that local traffic can exit their properties without delay or angst. Elasticised waist straps used to display member numbers must be facing the front as they cross the line which ensures numbers are filmed for secondary supporting evidence alongside the electronic timing system. The timekeepers have a tough job ensuring results are recorded and collated online viewing, however, problems do occur, therefore, all runners must comply as instructed. All casual day runners are most welcome to run for $10 (seniors) or $5 (juniors), although those intending to join can do so for a minimal annual fee of $57 (seniors) or $24 (juniors 12yrs – 18yrs). Members are entitled to regular Club updates, handicap and club championship points and trophy eligibility at the annual Presentation Night in October. Runners are also reminded that race day registration will close ten minutes prior to gun time which allows our valuable volunteers some time to warm up for their own race.
The local and wider community are reminded that the 10th Anniversary BMA Mackay Marina Run registrations have been open since the 1st March, therefore, to secure your shirt/singlet size, don't miss out, go online now www.mackaymarinarun.com