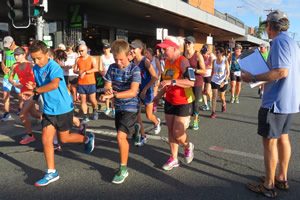 Zambreros in the Mackay City Centre were the awesome hosts of the Mackay Road Runners Zambreros Burrito Bolt held Easter Sunday at 4.30pm. Over forty runners and supporters converged on the popular restaurant to firstly, tackle their respective events, a very social 5km or 10km, then enjoy the post run hospitality and comradery offered by Proprietor Peter Quinn and his fabulous staff.  The weather conditions were perfect for a walk or run from Zambreros towards the Bluewater Trail and beyond depending on race options.  Mackay Road Runners Club Captain, Jim Ford thanked Peter and his wonderful staff for allowing the Club the privilege of holding the event and for the excellent refreshing free post run slushies…..very much appreciated!
Mackay Road Runners welcomed out of town athletes from Yeppoon (Terri Fallis) and Brisbane (Megan Ross) amongst the many locals competing in the social 5km & 10km events which took runners from Zambreros onto the beautiful Bluewater Trail to the Ron Camm Bridge where the 5km competitors turned for home and the Landsdowne Road/Botanic Gardens Roundabout turnaround for the 10km runners.  Talented runners, Wayne McMurtrie and Alana Ford were first male and female to cross the line in the 10km, with speedy youngsters, Benji Binney and Maddy Price first in the 5km.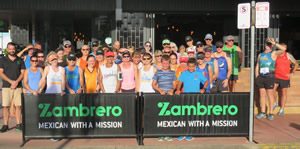 Meanwhile, the rest of the field who performed extremely well included Derek & Sammy Woods, Craig McGahey, Jo Hughes, Julie Bishop, John Rodden, Jose Short, Robyn Madill, Andrew Short, Jenny Smith, Cilla Martland, Peter Wright, Ashley Davies, Martin Lambert, Mark McFadzen, Tim Caddy, Indiana Brough, Jamie Bornman, Leon Ryan, Karla Hook, Matthew Smith, Daniel Stampa, Carmel Mahon, Vicki Vickers, Adam Knesevic, Paul Tilse, Ross Vickers, Carolyn Steginga, Shelley Binney, Brenda Windsor, Simon Henderson, Sandra Henderson and Peter Ford.
Mackay Road Runners next weekly event will be this Sunday morning from 62 Evans Avenue, North Mackay starting 6.30am. Mackay Road Runners Life Member, Agnes Farmer is the delightful host of the long standing annual event, The Farmers Long Gallop, which includes a 5km and 17km run from her residence. Runners are reminded to arrive at least thirty minutes prior to race start with their numbers and timing chips attached.  Members are requested to check the race day volunteer list online mackayroadrunners.com.au to ensure the success of this and future weekly events…..many thanks to you! Runners and their supporters are very welcome to stay for the post run refreshments.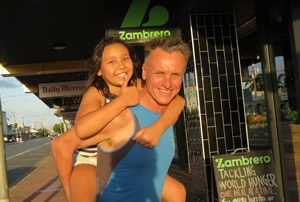 The BMA Mackay Marina Run is approximately six weeks away, check out mackaymarinarun.com for all the details regarding registration and the 'not to be missed' inaugural Friday evening event where running legends and BMA Mackay Marina Run Race Ambassadors, Steve Moneghetti and Benita Willis will be in attendance. The 2017 BMA Mackay Marina Run is expected to be one of the best in its ten year history…..do not miss being part of the region's largest and most successful running festival!
The Stamford Financial Hamilton Island Hilly Half Marathon is ON!!!!!!!!!!!!  Hamilton Island Race Director, Steve Jackson and major sponsor, Stamford Financial's Martin Lambert confirmed the Island and the run is open for business……go on line now to register and support one of the best organised and most enjoyable trail running events in the World.  Unfortunately, the usual course will be altered to accommodate the damages done by Cyclone Debbie, however, Steve has promised the same 'wow' factor will be on show as usual.  This is an event and location not to be missed, please support them.