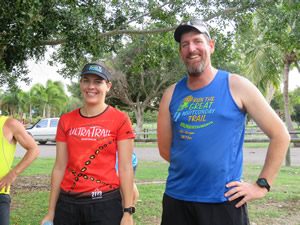 Mackay Road Runners latest event was the very unique odd/even 10km Team event commencing 5.30pm from Town Beach. Over forty runners enjoyed Club Captain Jim Ford's course description, whereby runners split into two teams based on the odd or even date of their birth. Teams then separated to discuss tactics as per Jim's guidelines, before each team ran in the opposite direction in an endeavour to cross the finish line as a team within the nominated time. The 'Odd' team lead by Alan Zamparutti, Peter Ford and Russell VanDenBosch ran south along the Town Beach Esplanade whilst the 'Even' team took on the Sandfly Creek trail headed by Shawn Claydon, Will Morgan, Martin Lambert, Jose Short and Andrew Wallace.
There were some exceptional performances from several runners in both teams as well as from the overall winning team where the 'Odd' Team claimed gold – Lisa Davis, Julie Kliese, Jenene McLellan, Glenys Forse, Carmel Mahon, Stephen Oberg, June Bradley, Jo Skinner, Chris Skinner, Simon Henderson, Ashley Davies, Bill Morgan, Lauren Morgan, Ross Connor and Greame Harris with cycling backup by Jess Harris and marshalling by Andrew Short.
Many thanks to Jim Ford who once again organised a great event which always includes varying options for all runners/walker's abilities as well as a big thank you to Russell VanDenBosch for bringing the post run refreshments…..so much appreciated!
Runners are now looking forward to this Sunday's challenging Blacks Beach Tavern 5/10km which promises inclusions of testing terrains, possibly 'some' sand and hills……yeah! Runners will meet at the Blacks Beach Tavern carpark with racing to commence 5.30pm…..all welcome, members and non-members, to stay for post run refreshments.
Congratulations to local runners, Kristian and Erin Safe who successfully completed the Queenstown Marathon in New Zealand at the weekend in an impressive four hours and 46 minutes. Another local endurance runner, Martin Lambert will be travelling to Tasmania this week to join Australian Mountain Running Champion, Hanny Allston in a 67km ultramarathon trail running event in the beautiful Apple Isle.