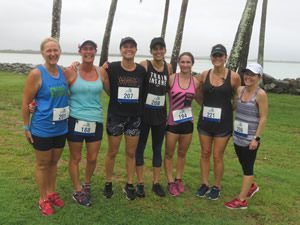 Mackay Road Runners annual Tim's Pub to Pub Slade Point 5 & 16km Club Championship race was held in very damp, slippery conditions from the residence of generous hosts' Sandra & Tim. The 6am race started with a course briefing by the Club President, Tim Magoffin just before the sun rose amid the cloudy ocean backdrop. Sprinkling rain had a welcome cooling effect for approximately sixty runners as they contested the Junior 5km and the Senior 16km Club Championship race where valuable open and age category club championship and handicap points were on offer.
Will Morgan had an outstanding race, conquering the course in a very respectable time ahead of second male and Dad, Bill Morgan (Hope the East Bunny still comes to Will). First female, Rachel Silvestri was once again outstanding, easily sprinting the 5km course ahead of Layla Sanders, who had a great run, finding superb form early in the season. An excellent effort by Tim Magoffin who impressively multi tasked ie running and carrying a road sign (who said males can't do two things at once!) And then, put on his other hat to assist the Bacon & Egg Magoffin cooking team, Sandra Comben and Chris & Barry Comben….thankyou – just awesome! Ross Connor, Mark Pashalis, Peter Ellison, Jenny Harmer, Jo Ashford, Rod Yates, Leanne Connor, Paul Tilse, Cilla Martland and Arthur Dick also shared solid performances throughout the tough 5km course, which included one ascent of Lamberts Beach Lookout as well as many undulations towards the Seabreeze Tavern and return.
The sixteen kilometre runners also faced several challenges, including the never ending Slade Point Road containing steep cambered edges and the jungle like atmosphere of the wetlands trail parallel to Keeley's Road. The turnaround point on Andergrove Road, opposite The Grove Tavern brought up the first six kilometres, with runners then doubling back past the start to then do the final 4 km. The back end of the race proved to be part of the toughest with the more serious undulations of Ocean Avenue and Gannet Street towards the fartherest point at Seabreeze Tavern, leaving only 2km for the final return trip back to the start line. Timekeeper, Peter Wright was a welcome sight at the finish line as he impressively handled the registration and recording of all runners as they sped through the finishing shute.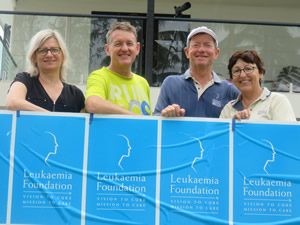 Sixteen kilometre winner Julian Picot was once again outstanding in his performance over the challenging course, with training buddy, Carl Pinkstone, closing in fast in the final straight. Leon Ryan had an outstanding race, powering over the hills to take third ahead of Hunter McGovern and Mark McFadzen. First female Jose Short scorched over the 16km course, claiming gold ahead of Carmel Mahon, Teresa Hackney with Shelley Binney and Ainslie Heinke just outside the podium places. Excellent efforts by new runners over this distance included Carolyn Steginga, Anna Berrigan, Lauren Berts, Kylie Harbour and Layla McGrory. Charlie Bone, who was very grateful for the advice and assistance of Carmel Mahon's 20 seconds running/20 second walking, was ecstatic in conquering the challenging event. The support of Carmel is mirrored as typical of Mackay Road Runners support of each other, thank you Carmel and congratulations Charlie!
Other outstanding performances also came from former winner of the event, Judy Zahn, George Hannaford, Kristian Safe, Gavan Porter, Erin Safe, Emma Goodman-Jones, Tim Caddy, Luke Schatkowski, Lindsey Wiggins, Alan Zamparutti, Stuart Sprott, Karla Hook, June Bradley, Peter Ford, Lauren Dunne and Emily Wicks.
Many thanks to all the runners who donated funds towards the Leukaemia Foundation for the awesome Bacon & Egg Magoffin brekky, 'with food items generously supplied by Sandra & Tim and cooked by Barry and Chris Comben. All funds greatly appreciated by the Leukaemia Foundation who are the major beneficiaries of the BMA Mackay Marina Run held annually on the first weekend in June. The Leukaemia Foundation and The Mackay Road Runners' volunteers jointly host the BMA Mackay Marina Run ably assisted by an incredible committee of volunteers.
This weekend's 5/10km social run commences Easter Sunday at 4.30pm from the Zambrero's Restaurant, corner Gregory and Gordon Streets, City Centre. Many thanks to Host, Peter Quinn, his family and staff for their generous hospitality. All members and non members are welcome to enjoy a casual 5km or 10km run with like minded individuals….bring Mum, Dad and kids for support…..all invited.
Runners are also reminded that the North Queensland Games will be held in Mackay on the first weekend in May this year, with the Mackay Road Runners hosting a 5/10km run from the Botanic Gardens Amphitheatre, Alexandra Street…..registrations are now open, so go on line today!