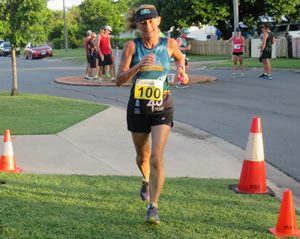 Approximately eighty runners and their families supported the much anticipated annual 5km & 10km Tilse Toddle event from the West Mackay residential suburb last Sunday afternoon.  Conditions were extremely humid despite the slight breezes which were only fully appreciated upon the setting of the sun and completion of their run. The scratch start handicap 5km & 10km races commenced at 5pm in very warm conditions, however, runners were rewarded with post-race treats from Ange Furdek, Leanne Connor, Jo Hughes and hosts Paul & Janelle Tilse to alleviate some of the pain and suffering from their tremendous efforts.
Club President, Tim Magoffin welcomed all new and existing runners before giving the course description and outlining the new chip timing system currently being implemented and overseen by Brendan Bishop.  Many thanks to Brendan and his excellent team of timekeepers/registrar, Sandra Henderson, Jo Hughes, Leanne Connor, Ross Connor and Hayden Connor for their valuable assistance in having all runners checked in and recorded.  All runners need to register online asap to be a Member to be issued with a timing chip, which they keep for the year, however, should they forget or lose their chip, they will need to purchase a replacement or not have their race noted in the official results.  The preparation and cost of running the new timing system is significant and will greatly benefit the Members, many thanks to Brendan's awesome efforts in organising the funding to support this valuable asset…..so much appreciated.
Julian Picot and Ashlee Scott continued their excellent winning form to record gold medal placings in the 10km two loop race with Jamie Sanders and Rachel Silvestri taking out the top placings in the 5km race, and Carl Pinkstone, Ashley Davies, Maddy Price and Josh Bornman collecting the minor silverware in the 10km and 5km respectively. There were some outstanding performances from new runners, Diego Saglia, Luke Schatkowski and Emma Carlos as well as junior runners, Finn Zamparutti, Leo Walz, Simba Walz, Layla Sanders, Leon Barben and Ryan Barben. Many experienced senior runners displayed their sensational talents including Russell VanDenBosch, Greame Harris, Alan Zamparutti, Martin Lambert, Tim Magoffin, Stephen Oberg, Shane Barben, Peter Wright, Jose Short, Ange Furdek,  Judy Zahn, Merv Shields, Ricky Parker, Tim Caddy, Julie Bishop, Sandra Henderson Jan Smith, Erin Safe, Daniel Stampa, Caroline Steginga and Mark Walz.  Exceptional running by two of the Club's most awesome and inspirational runners, seventy-three year old Stuart Sprott and seventy-one year old David Isbister…..there is ALOT to be admired, respected and learnt from this pair!  A welcome return and congratulations to Josh Eisemann, who has actually done back to back consecutive weekly 5km's, also doubling up as a much needed boost and entertainment value for congenial rival Paul Tilse.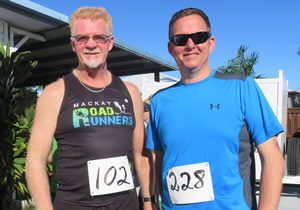 This Friday evening commencing at 6pm at a cost of $10, the BMA Mackay Marina Run in association with the Mackay Road Runners and the Mackay Branch of the Leukaemia Foundation will conduct its second annual Twilight Launch 5km run from the City Centre City Cinema carpark precincts. All funds will go directly to the Leukaemia Foundation, who are the major beneficiary of the BMA Mackay Marina Run's fundraising efforts.  Come one, come all to walk/run the 5km in a bid to start your training regime, if you haven't already, to support the Leukaemia Foundation and one of the Mackay Road Runners' Signature events, the BMA Mackay Marina run event on 4th June.
This Sunday's 5km run will be the first of the Club Championship races, commencing at 5pm from the Queen's Park Rotunda, Goldsmith Street.  All runners must register to be a Member online by 28th February to be eligible for valuable open and age category Club Championship points.
With the formal running season now underway, Members are also requested to contact Volunteer Co-ordinator, Paul Tilse to note the date they can assist at one/more of our weekly events.  Many of our Committee Volunteers already have a heavy weekly Club workload with race setup/pack up, course marking, registrar, timekeeping, publicity obligations, etc….therefore, being able to volunteer at a race at least once throughout the year would be much appreciated.  If we do not get the required number of volunteers, Paul will assume it is ok to randomly draw Members' names out of a hat/shoe to attach to a random race. Therefore, please note your name on a race that will suit you prior to this otherwise if your name is noted down on a race you cannot attend, you will need to organise a replacement. Paul will email a list to the relevant volunteers when the list is finalised so they are aware of their timeslot.  Please note Paul will NOT be including committee members/current volunteers on the volunteer list, as they are already contributing way beyond expectations…once again, thank you so much to everyone, your efforts are amazing….they are mostly unseen so that the weekly events run as smoothly as they do!