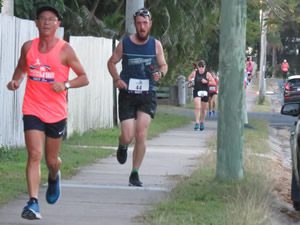 Mackay Road Runners held its annual 'The Grove' 10km Handicap Trophy for the twenty-fifth consecutive year from the awesome precincts of The Grove Tavern, Andergrove Road last Sunday Afternoon in perfect running conditions.  The historic trophy is won by the first male or female runner who crosses the 10km line based on their handicap start.  Seventy-two year old talented Mackay Road Running stalwart, David Isbister was the deserved recipient, taking out the 2018 crown for the second time in the history of the event.  David's last victory was an amazing fourteen years ago and now reigns as the only runner to have ever won the trophy for the second time.  Previous Trophy winners, Paul Tilse (1996), Shane Barben (2011) and Peter Wright (2015) were among approximately forty runners who were on hand to congratulate David at the post run presentation at The Grove lounge. Many thanks to The Grove Proprietor, Brad Hoffman for his support and very generous sponsorship as well as his friendly staff for hosting the special event.
Both five and ten kilometre participants were sent on their way from 4pm based on their individual club handicap by timekeepers, Craig McGahey, Peter Wright, Lindsey Wiggins and Tim Magoffin. Many thanks to these volunteers who take care of race day registration, timing and collation of results for the weekly events for all club members.  Merchandiser, Jo Skinner, Race Day setup, Andrew Short, and Registrar, Paul Tilse are also to be congratulated on their weekly race day efforts which also includes a tremendous amount of behind the scenes work to ensure a smooth event.
The Grove five kilometre runners enjoyed a spectacular outing with Darrin Pullen taking gold on handicap ahead of Carolyn Steginga, Janelle Tilse, Rachel Silvestri, Lindsey Wiggins, June Bradley, Andrew Short, Tam Wanstall, Ross Connor, Jo Hughes, Colin Hardy, Leanne Connor, Hayden Connor, Arthur Dick and Sandra Henderson.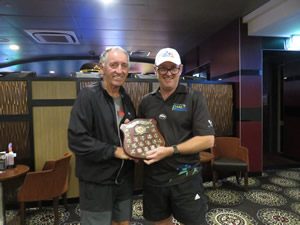 Ten kilometre runners who were quick to follow in the speedy steps of winner,  David, included Jo Ashgrove, Danielle Thompson, Charlie Bone, Sarah Jensen,  Andy List, Ainslie Heinke, Mark Takagaki, Scott McIntosh, Jo Skinner, Kylie Harbour, Judy Zahn, Matt Graves, Carol Brown, Stuart Sprott, Anna Walsh, Steve Oberg, Mitchell Thompson, Mark McFadzen, Jose Short, Karla Hook, Geoff Neale, Shane Barben and Jan Smith.
This weekend's Gold Coast Marathon event is a huge goal event for many local runners including first time marathoners, Charlie Bone, Sarah Jensen and Scott McIntosh. In other marathon news, local running grandmother, Mackay Road Runners, Brenda Windsor will have completed her first marathon on 25th June in Perth as part of the Bravehearts Charity 'seven marathons in seven days in seven states'….results not to hand at time of printing. Best wishes and congratulations to all runners on their amazing efforts.
Local racing this Sunday at 4pm will consist of a very social 5/10km from the Bluewater Quay in the City Centre. All Members and non-members very welcome!