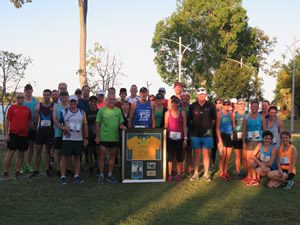 Mackay Road Runners and Mackay's only specialised running coaching store "On the Run" joined forces in presenting the prestigious annual Benita Willis 10km handicap Trophy event from the Bluewater Lagoon parklands last Sunday afternoon. In perfect running conditions, over fifty runners contested the 5km and 10km options with the first placed 10km handicapped runner across the line deemed the 2018  Benita Willis 10km Handicap Trophy recipient.
"On The Run's" Martin Lambert has been a huge supporter of running in the local and wider community for many years, with great results from many of his personally trained athletes.   Martin, himself, is a very experienced runner, tackling and conquering many longer distance endurance events including the Anzac Centenary 100km event in Sydney and the Mackay to Moranbah Trail to Triumph in honour of Tony Britton who passed away from mesothelioma cancer. Martin's quality experiences and knowledge in running includes trail and road running over varying distances. Mackay Road Runners appreciates Martin's support in presenting the coveted Benita Willis Trophy event.
Benita is one of Mackay's most treasured icons, competing in four Olympic Games and two Commonwealth Games and the holder of many Australian records. Benita was the sensational 2004 World Cross Country Champion where she blitzed a field of world class runners to take an unprecedented first place ahead of her more fancied rivals. Benita is a beautiful role model who still remains a country kid at heart, calling Mackay home, generously supporting our 10km event as well as being the BMA Mackay Marina Run race ambassador. We are very proud to have Benita share her time and experiences with the Mackay Road Runners where she still holds the Club's  local Magic Mile race record.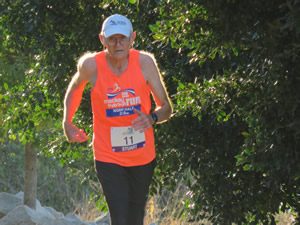 The winner of this year's event went to a very thrilled Simon Henderson who  snatched line honours based on his handicapped start ahead of a very fast finishing Dannelle Thompson and third placed Geoff Neale.  Simon, who is a teacher at Mackay North High School,  just so happens to be the same secondary school where Benita went, was stoked with the spectacular trophy.  His first thought upon winning was placing the enormous trophy in the High School's main entrance in honour of their past student. Simon, who has been battling injury for some time,  was a very deserved winner of the majestic prize. Runners who ran extremely well to chase down the front markers included Tim Caddy, Stuart Sprott, June Bradley, Alan Zamparutti, Karla Hook, Peter Ellison,  Carl Pinkstone, Judy Zahn, Mitchell Thompson, Mark Takagaki, Scott McIntosh, Steve Oberg, Jose Short, Kylie Harbour, Carmel Mahon, Colin Hardy, Leon Ryan and David Isbister.
Junior runner, Will Morgan, ran a courageous race, challenging himself with the tough ten kilometre event, where he placed highly among his more experienced peers. Will is heading to Townsville this weekend to compete in Athletics North Queensland championships in  the 800 metres, 1500 metre and high jump.
In the five kilometre event, Darrin Pullen sprinted from his handicapped start, placing only seconds behind winner, Janelle Tilse.  Delightful comradery from third and fourth placed Paula Easton and Tam Wanstall as they crossed the line together ahead of the very speedy Nick Rewald.   Mark Walz timed his run to perfection crossing the line marginally ahead of Stacey Tresise, Peter Wright, Andrew Short, Carolyn Steginga, Jo Hughes, Craig McGahey and Ross Connor. Following in quick succession were Bill Morgan, Kim Saron,   Leanne Connor, Sandy Strong, Arthur Dick and Russell VanDenBosch.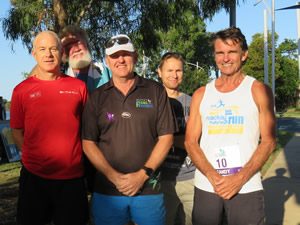 Thank you once again to Martin for his support of the event and donating five x $50 random draw and competition prizes to lucky winners. One of the competition prize questions included a guess of  Benita's long standing 3km Australian record which was won by David Isbister. He was one second off the sensational time of eight minutes 38 seconds……amazing time, no wonder it still stands!  The second prize winner, Karla Hook was ecstatic to have her birthday in May closest to Benita's.  If you need running coaching guidelines, look no further than 'On the Run'…maybe you can do a sub nine minute 3km!
Having said that, this Sunday happens to be the Club's 3km Club Championship event at 4pm from the Queens Park Rotunda via Goldsmith Street entrance.  Attempting a sub nine minute 3km at this time is not recommended…the eliteness of that spectacular time is certainly a tough goal. Our awesome new sponsors of the 3km will be Construct Health Physiotherapy who will be on hand generously supporting the event as well as offering professional assistance.  If you do decide to do an unrealistic wondrous personal best, they may be the first person you need to see post run!   Thank you Construct Physio for your sponsorship, it is so much appreciated