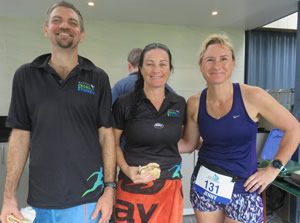 The looming Cyclone Debbie did not deter approximately fifty runners from competing in last Sunday's second Mackay Road Runners Club Championship event, which included hilly undulations around the coastal suburbs of Slade Point and Lamberts Beach, with a small portion of Andergrove in the middle.
Outstanding local runner, Ashlee Scott blitzed the entire field in her first 16km race to place outright first last Sunday morning from Magoffin's Slade Point residence.  Ashlee has been in superb form, looking sensational from the gun to the finish line, breaking the tape in an awesome time ahead of speedy male competitors, Mark McFadzen, Daren Galea and Greg O'Neill. Carmel Mahon took silver ahead of fast finishing Jose' Short to round out the final Senior Open club championship points placings. Rachel Silvestri and Jamie Sanders proved themselves, once again to be classy finishers, both claiming gold in the male and female Junior 5km Club Championship ahead of Will Morgan, Lauren Morgan and Hannah Morgan. Bill Morgan set a great pace, leaving the only Morgan left, Diane, happy to be cheerleader for her family.
There were many excellent performances from new runners, including Brendan Keates and Jonathon Jenner, as well as more experienced runners, Judy Zahn, Leon Ryan, Martin Lambert, Emma Goodman-Jones, Pamela Houston, Jo Hughes, Julie Bishop, Tim Caddy, Darren Binstead, Stephen Oberg, June Bradley, Simon Henderson, Greame Harris, Leanne Connor, Sandra Henderson, June Bradley, Karlee Hayden pushing the running pram with one year old Zane, Charlie Bone, Michael Feenaghty, Robyn Madill, Jo Skinner, Andrew Short, Jarred Spence, Ryan Palazzi, Sarah Jensen, Craig McGahey, Melissa Harris, Vicki Vickers, Shane Barben, Karen Lowe, Kristian Safe, Anna Howell, Stuart Sprott, Ross Connor, Bernadine McKinnon, Merv Shields and Brenda Windsor.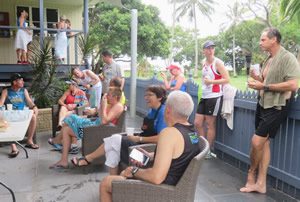 Many thanks to race day set up crew, timekeepers, water stop, etc including Russell VandenBosch, Brendan Bishop, Tim Magoffin, Andrew Short, Suzie Silvestri, Rachel Silvestri, Linda McFadzen and awesome Leukaemia Foundation representatives, Barry & Christine Comben who flipped his unique annual Bacon & Egg Magoffins to perfection on the barbie.  Many thanks to Tim and his family for the use of his awesome pool area and BBQ for which a donation to the Leukaemia Foundation was the only request.
This Sunday's annual Eungella Half Marathon Trail Run will definitely be a muddy, leachy affair, therefore, all runners are warned to prepare as best they can.  There will also be the usual coveted award for 'The Most Muddy' on offer and as the winner over the past two years, Glenn Baker has left town, the competition will be wide open to whomever can arrive at the finish line the filthiest, which should be an easy achievement this year, therefore, a tough decision for the judges.  Presentations will be held post-race in the dining area at the Eungella Chalet, therefore runners and their supporters can purchase refreshments from the bar area. Please note that nominations for the event have closed, therefore, to ease congestion for the volunteers, runners are urged to please arrive at least half an hour before the 8am start as there will be approximately ninety runners collecting their race bag/numbers.  Racing will commence 8am sharp… race numbers are to be secured to the front of yourself (not at the back) so that it is very clear for the timekeepers and ease of results preparation.  Many thanks to race Director, Matt Stevens and his awesome team of volunteers and sponsors…. please thank them, as this is a huge race with many difficult logistics to organise.