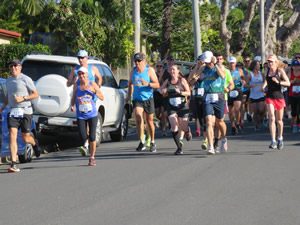 Mackay Road Runners annual Shields Stampede 5km & 12km is always a well attended and much anticipated event on the Road Runners Calendar. Hosts and Life Members, Merv & Wendy Shields are always so gracious and generous as they open up their home for runners to enjoy a great run and post run refreshments, especially Wendy's yummy choc/marshmallow biscuits. Alan Zamparutti and Carmel Mahon were among several very satisfied taste testers on this occasion giving the bickies ten out of ten as they fought for the last one!
Mackay Road Runners were fortunate to have on hand seven out of eight of their Life Members at the event, Merv & Wendy Shields, Agnes Farmer, Paul & Janelle Tilse, Judy Zahn and Charlie Martel. Shawn Claydon was absent due to his participation in the Bridge to Brisbane 10km run over the same weekend. Shawn clocked a very impressive time of forty-five minutes 47 seconds to place fourth in his age category and well inside the top one hundred out of thousands of other runners.
Meanwhile, locally the Shields Stampede was a great success for approximately fifty runners tackling the testing 5km and 12km courses which included several serious hilly sections toward the back end of the 12km run. The 5km runners were spared the streets of Norris Rd, James Croker Drive and Annie Wood Avenue, however, they did encounter one testing hill (twice) at the junction of Norris and Beaconsfield Roads so they did not feel left out.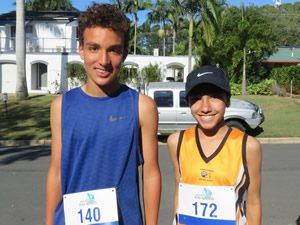 Benji Binney scorched over the 5km course in scintillating form to take out the event ahead of first female, Ashlee Scott (19:10) and Simba Walz (2nd male). Benji backed up extremely well after the Capricornia State Secondary School athletic championships the previous weekend in Emerald where he scored gold in the 1500 and 800 metres and a fourth placing in the 400 metres. His results easily qualify him for the State Titles in Brisbane in October. Tahlia Campbell, who claimed second female in the Shields 5km, also scored herself a berth at the State Titles with success in her pet events, the 1500 and 800 metres. In addition to the talented pair, Rachel Silvestri, won all her events in the Emerald competition, scoring selection in a multitude of events, as did Hayden Connor, Jamie Sanders and Layla Sanders. Unfortunately several runners who were selected to compete were unable to attend included but not limited to were Jamie Bornman, Paige Stolberg, Lauren Morgan, Will Morgan and Simba Walz.
The Shields Stampede scratch start 12km event was smashed by Carl Pinkstone who blitzed the course ahead of next best males, Tim Caddy, Anthony Blines, Iggy Janse Van Rensburg, Alan Zamparutti, David Isbister and Stuart Sprott. First female, Carmel Mahon, ran well to place ahead of a very fast finishing Alana Ford, Ashley Davies, Karla Hook, Judy Zahn, Jose Short, Carolyn Steginga, Vicki Vickers, June Bradley, Robyn Richards, Jo Hughes and Sarah Jensen. Congratulations to all runners across both events including Russell VanDenBosch, Colin Hardy, Cilla Martland, Jenene McLellan, Mark Walz, Ross Connor and Shane Barben. Bernadine McKinnon clocked a very well-paced thirty minutes on her return 5km run, despite missing the finishing shute. Charlie Martel has pretty well renounced his title after heading home with about ten runners left at the venue….Wendy Shields was definitely last to leave, however, not sure if that counts if she lives there!
Congratulations to Craig McGahey and Jo Skinner on the success of their first marathon (42.2km) at the Sunshine Coast the previous weekend, both clocking 3 hours 58 minutes in their first event attempt at this iconic distance. Both runners enjoyed the course and event and have recovered extremely well. Congratulations to the Cystic Fibrosis Run organisers for a fantastic event, where approximately six hundred runners/walkers competed in the 5km run and 5km doggie walk at Canelands Park. Well done to the many Mackay Road Runners who competed, then backed up for their Club event in the afternoon.
Great work y by our own race day volunteers Mark & Linda McFadzen, Jo Skinner, Lindsey Wiggins, Tim Magoffin, Andrew Short and Jose Short for their assistance as well as awesome hosts, Wendy & Merv Shields…..thank you!!!!!
This weekend's run, as quoted by the Club President, Tim Magoffin, is the marquis 'best day of the year' event!!! The Mackay Road Runners pre Father's Day Park Run 5km & 10km. The usual Park Run 5km run will be hosted by the Mackay Road Runners in affiliation with the usual awesome Park Run Volunteers and Mackay Road Runners volunteers, commencing at 7am from the Botanic Gardens Lagoon Street playground.