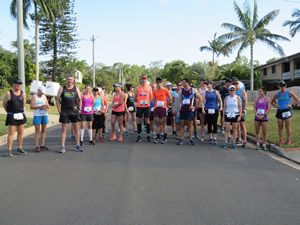 Mackay Road Runners warmly welcomed special guests, Bonny & John Claydon and Sharon & Jeff Stewart-Harris to the annual 5km & 12km Shields Stampede, hosted by Life Members Wendy & Merv Shields. Together with approximately fifty Mackay Road Runners, Bonny, John, Jeff and Sharon were on hand to collectively honour their son and brother and friend, Shawn Claydon, who passed away on 30th August. Life Member, Shawn was the Mackay Road Runners Treasurer for over 15 years and was also Mackay's top male runner locally and interstate until his illness took hold. Club President, Tim Magoffin spoke of Shawn's enormous contribution to the Club, his incredible work ethic, whether training or working and his humble and generous personality, which will leave an immeasurable hole in the hearts of those who knew him. All runners and supporters wore Pancreatic Cancer purple ribbons in support of Shawn. Shawn's amazing tenacity was evident throughout his treatment fight against one of the most aggressive cancers which was diagnosed only six months ago. Mackay Road Runners were very grateful to have Shawn in their ranks as a truly unconditional friend and club representative.
Over fifty runners and supporters bowed their heads for one minute's respectful silence for Shawn prior to bolting from the start line at the Shields Stamped onto the 5km & 12km course. The scratch start race took runners out of the hilly Mt Pleasant suburb into Beaconsfield and Andergrove before heading back to the finish line. The extremely humid conditions tested runners to the limit as they traversed the meandering undulating northern suburbs. Five kilometre runners had a relatively flat track compared to the 12km competitors, however, all competitors relished the testing conditions and adjusting suitably to the weather and every incline they faced.
Paul Arvidson and Nick Rewald ran impressively to break the tape first and second consecutively, Craig McGahey was 3rd and Andrew Short 4th with newcomer, Leon Else cruising in next. First female, Ashlee Scott had a sensational welcome back run with Carolyn Steginga and Jose Short following in quick succession. Excellent running also came from Simon Henderson, Andrew Short, Molly Loosmore, Lauren Berts, Peter Wright, Jo Hughes, Jeanette Farrugia, Tam Wanstall, Craig McGahey, Jo Skinner, Kim Saron, Cilla Martland, Paula Easton and Arthur Dick.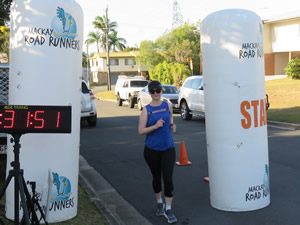 Twelve kilometre runners really felt the sting in their stride in the later stages with many opting to sensibly take walk breaks. Carl Pinkstone was outstanding in the 12km despite the oppressive conditions. Talented long distance runner, Carl formed a huge gap on the rest of the field including second placed Scott McIntosh and legendary Charlie Martel. Great running was on display from Peter Ellison, Lindsey Wiggins, Tim Magoffin, Mark Takagaki, Alan Zamparutti and Stuart Sprott. First female, Carmel Mahon was in fine form on her return to racing, with evergreen Judy Zahn always a tough competitor and in the medal mix. Sterling performances also came from Karla Hook, Kylie Harbour, June Bradley, Carol Brown and Brenda Windsor.
Mackay Road Runners wishes to thank our hosts, Life Members Wendy & Merv for their usual awesome hospitality and scrumptious afternoon tea. Thanks also go to those who contributed to the smoke-o and commiserations to ALL Bronco fans 🙁
Race day volunteers also need to be congratulated on their exceptional work week in, week out in support of the club and to all runners – Tim Caddy, Lindsey Wiggins, Andrew Short, Tim Magoffin, Paul Tilse, Peter Wright, Jo Skinner and Shane Barben. Please remember to thank them often.
This Sunday's prestigious annual event will be the Benita Willis Handicap 10km run from the Bluewater Lagoon. Runners in the 10km event will be competing for the honour of winning the spectacularly framed perpetual trophy of our local running icon and 4 x Olympic champion, Benita Willis. Racing will commence 4pm sharp with all runners starting on their official club handicap for 10km. Runners who do not start on their correct 10km handicap will not be in contention for the trophy. Runners are also reminded to wear their timing chip on their shoe and member # on the front of themselves. Runners are also advised there will be a 5km race option which is not included in the Trophy race and casual runners are most welcome for a small day runner fee of $10.