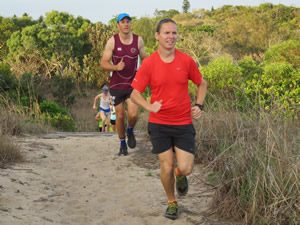 Mackay Road Runners Club Captain, Jim Ford, was once again integral in the organising of the off season social training run through the Lamberts Beach sandy nature reserve trails. Jim's very extensive running experience has always been a very important part of the Club's leadership team, especially as the ideas man for the Club's off season training sessions. Jim, who has been with the club for over ten years, always finds a unique concept to introduce to runners, which makes for very enjoyable, no pressure running. Despite the official season ending in early October, Mackay Road Runners will continue to host weekly off season events every Sunday afternoon at 5.30pm at varying locations throughout the city….check the Club's website for details….. mackayroadrunners.com.au
Over fifteen runners enjoyed the 2/3/4 loop course which, as usual, is always up to the discretion of the individual's own decision on their current ability and fitness as to what distance they prefer to do. The humidity was abundantly obvious as runners trekked through the challenging terrain, however, all runners were delighted with their efforts as they returned to the starting point for a cool down.
Julian (Winx) Picot continued his excellent form from the formal season to lead runners out onto the course before taking in four loops of the testing terrain. Lindsey Wiggins was second out of the blocks followed closely by Adam Knesevic, Alana Ford and Steve Oberg. Carmel Mahon, Karla Hook, Mark Pashalis and Tim Caddy totally enjoyed the social outing as they easily chatted throughout the entire course…how do they do it! Excellent running also came from Bill Morgan, Carolyn Steginga, David Isbister, Simon Henderson and Daniel Stampa. Many Thanks to Jim Ford, Alana Ford and Andrew Short for organising a great course, bringing post run refreshments and on course safety marshalling.
Runners are advised due to the extreme temperatures heading our way already, that it is very important to be fully hydrated prior, during and post event, no matter what the training activity. It is also advisable to be conscious of your own safety whilst training of the roads, including high visibility clothing, etc…
This Sunday's run will commence at 5.30pm from The Bluewater Lagoon…..check mackayroadrunners.com.au for the course map.