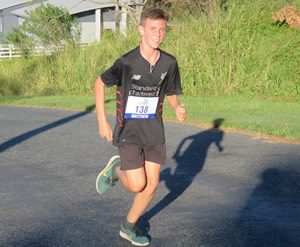 Last Sunday afternoon, the Mackay Road Runners Rural View 5/10km event was a very challenging affair with approximately fifty runners meandering through the undulating Rural View suburban streets towards the treacherous Lookout Loop.  The race start had all Members starting on their official handicap, therefore, with the staggered start, all runners had the opportunity to chase down runners as opposed to a scratch start where all runners start as one.
Handicap 10km winner, Jared Spence ran extremely well, covering the course in an exceptional time, as did Greame Harris, Shawn Claydon, Ricky Parker, Stephen Oberg, Derek Woods, Andrew Wallace, Russell Vandenbosch, Merv Shields, Stuart Sprott, Shane Barben, Mark Walz, Michael Feenaghty, Charlie Bone, Matthew Jurak, Josh Eisemann, Calvin Franklin, Matt Graves, Simon Henderson and Peter Ford. Speedy, Ashley Davies was the first female runner to cross the line based on her handicap start ahead of fast finishing Jo Hughes, Bernadine McKinnon, Alana Ford,  Sarah Jensen, Carmel Mahon, Karla Hook, Ulrika  Widdowson, Jan Smith, Vicki Vickers and Julie Whibley.
Junior runners in the 5km, Jamie Sanders, Joshua Bornman, Will Morgan, Matthew Smith, Benjamin Binney, Jamie Bornman, Lauren Morgan, Maddy Price, Hannah Morgan, Rachel Silvestri and Layla Sanders placed highly in a handicap start against their more experienced senior counterparts, Paul Tilse, Bill Morgan, Sandra Henderson, Leanne Connor, Ashlee Scott, Jenene McLellan, Peter Wright, Colin Hardy, Carolyn Steginga, Daniel Stampa, Cilla Martland and Emma Crozier.
Club President, Tim Magoffin and son Matthew, did a great job setting up the course as well as undertaking the timekeeping duties, whilst Anthony Blines and Scott McIntosh were the awesome volunteer race day course marshals, Simon and Sandra Henderson on Registrar duty and Bernadine McKinnon & Ulrika Widdowson on merchandising.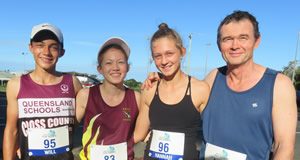 Runners are now focussing on the annual social 5/10k Zambreros Burrito Bolt on Easter Sunday at 4.30pm from the Zambreros restaurant, cnr Gregory & Gordon Streets, Mackay City Centre. Runners and their supporters are most welcome to stay post-race for refreshments for purchase from the awesome licensed Zambreros restaurant.
In interstate news, Moranbah Runner, Gary Jenkinson raced the Canberra Marathon in very cool conditions. Gary's time of 3hrs 47 minutes was not his personal best time, however, although disappointed, he has notched yet another marathon to his already loaded belt of Australian and international marathons. Local runners Martin Lambert, Jose & Andrew Short, June Bradley, Mark Takagaki and Karen Lowe travelled to Tasmanian for several days of scaling the many heights of a multitude of trails in the beautiful Apple Isle of mountainous Tasmania. The crew joined experienced World Mountain, trail and ultra running champion, Hanny Allston as well as Graham Hammond from Find your Feet running tours who led the locals on a very unique experience.
NOTE: The committee of the BMA Mackay Marina Run on 4th June advise early bird nominations have been extended, therefore, if you have not nominated in an event, jump on line NOW www.mackaymarinarun.com – don't miss the opportunity to meet Race Ambassadors, Mackay Olympian, Benita Willis and Victorian Olympian Steve Moneghetti as well as challenge yourself in a multitude of event options, including 3km, 5km, 5km Corporate Challenge, 8km and 21.1km.  Funds raised via the 5km Corporate Challenge will all go to the Mackay Branch of the Leukaemia Foundation.