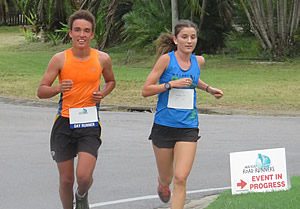 Approximately fifty Mackay Road Runners enjoyed the challenging Rural View 5 & 10km event commencing from McCready Street at 4.30pm last Sunday. The very blustery conditions and threatening rain handed out mixed conditions from humidity to late afternoon coolness and very brief light sprinkling rain. Club President, Tim Magoffin described the 5km undulating and meandering course which included a scenic circular loop of the magnificent heights of Rural View Drive, with ten kilometre competitors enjoying a repeat loop to complete their event. The handicap start events prove to be very popular with Club Members, where runners start their race based on their handicap time thus leaving the top back markers chasing down the rest of the field. The handicapper has a tough job allocating official handicaps to individuals, however, this is based on each runner's individual recent past performances which is adjusted and updated on a regular basis.
Ten kilometre winner based on handicap, Shane Barben had a sensational race, starting out strongly to finish easily ahead of his talented peers including second placed Erin Safe and Rodney Yates. The fastest 10km time went to one of this year's standout runners, Julian Picot closely followed by Carl Pinkstone. Carl had an outstanding 10km race after an awesome first place the same morning in one of North Queensland's Outer Limits Adventure Fitness Trail running series events. The 21km "Elliott's Revenge" in the Bowling Green Bay National Park, which is shadowed by Mount Elliott, has a great variety of trails, a challenging hill and some fast single trails following Alligator Creek. Carl's time of one hour forty-two minutes was two minutes clear of second in a field of ninety competitors including local trail runner, Tim Caddy who faced a few unexpected challenges throughout the race……well done Carl & Tim!
Meanwhile locally, the Rural View 10km female contingent raced extremely well, with a very close finish between Jose short and Julian Picot based on their handicap starts. Jose sprinted the final straight to edge out Julian, both clocking impressive times in the longer event. Carmel Mahon, Carolyn Steginga, Karla Hook, Jo Skinner, Stacey Tresise, Simon Henderson, Carol Brown, Judy Zahn and Sarah Jensen also placed well for the girls as did Martin Lambert, Alan Zamparutti, Sandy Strong, Mark McFadzen, Tim Magoffin, Paola LaPenna, Ryan Palazzi, Jason McCord, Wayne McMurtrie, Anthony Blines, Kristian Safe, Mark Takagaki, Brenda Windsor, Julie Whibley, Stuart Sprott and Charlie Bone for the boys. Thirteen year old Benji Binney was impressive in the 10km event, easily sprinting the two loop course to place highly among his older and more experienced competitors.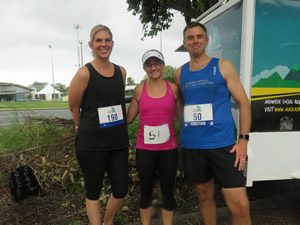 Five kilometre runners recorded great times despite the very hilly terrain and tough swirling breezes and headwinds. Rachel Silvestri once again posted an exceptional race as she easily took in the rolling countryside in her usual fast focused pace. Home on University break, Lauren Morgan made short work of her 5km race, proving she still has plenty of speed and stamina to burn. Simba Walz's set another sensational 5km time, showing improvement with every outing this year so far. Bill Morgan has also been in outstanding form this year as is Mark Pashalis, Daniel Stampa, Marie Muscat, Colin Hardy, Cilla Martland, Jo Ashgrove, Tam Wanstall, Paula Easton, Lauren Berts, Arthur Dick, Paul Tilse, Andrew Short, Jenny Smith and Mark Walz.
Many thanks to race day volunteers including Glynis Forse, Peter Wright, Daniel Stampa, Lindsey Wiggins, Andrew Short, Paul Tilse, Suzie Silvestri and Tim Magoffin.
This Sunday's social event will be a challenging 10km trail and sand run commencing at Cape Hillsborough Parklands/BBQ/camping area precincts at 4.30pm. All members and non-members most welcome to attend.
Runners are also reminded to visit the North Queensland Games website to register for our local 5km or 10km event on Sunday morning 6th May at the Botanic Gardens Meadowlands Amphi-Theatre – visit https://www.nqsports.com.au/2018-mackay-city-auto-group-nq-games/ to register in your event or for more information on North Queensland Games activities ie Opening Ceremony, event times and locations, etc…
The running of the 10th annual BMA Mackay Marina Run will be held on Sunday 3rd June – visit mackaymarinarun to register today for 3km (age restrictions), 5km Corporate Team, 5km, 8km and 21.1km.