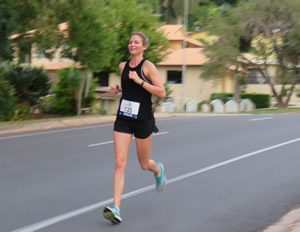 Approximately fifty runners enjoyed very "un-July-like" warm and humid conditions for the running of the Mackay Road Runners annual Robbo's 61 Steps commencing at 4pm last Sunday from the Gordon White Library carpark. The testing course took runners on a 5km undulating course through the treacherous ascents and descents of the leafy Mt Pleasant suburb, including High and Pollock Streets, Charles Hodge and Annie Wood Avenues, Norris Road and Bona Vista and James Croker Drives. The 5km loop course as described by Race Director and Club President, Tim Magoffin, meant bad/good news for the 10km runners, as they were sent again for a repeat outing of the tough loop for a second look at the City's awesome vistas.
Junior runner, Hunter McGovern, easily cruised over the 10km hilly challenge, continuing his excellent form this year and more recently, the Mackay Road Runners 10km Handicap Trophy win at The Grove a couple of weeks ago. Backmarker, Carl Pinkstone also performed exceptionally well, chasing down his peers from the handicap start, clocking the fastest 10km time. It was great so see the return of PRC runners Sandy Strong and Andy List, however, whilst running buddy, Tim Magoffin took a running break,  Martin Lambert was on hand to challenge Sandy and Andy.  Lindsey Wiggins, Leon Ryan, Michael Feenaghty, Scott McIntosh, Mitchell Thompson, Alan Zamparutti, Ross Vickers, Peter Wright, David Isbister and Charlie Bone also set a cracking pace in the 10km race.
Ashleigh Davies set a high standard in the 10km from her handicap start, maintaining her scorching pace to the finish line, as did, Jose Short, Karla Hook, Carmel Mahon, Judy Zahn, Carolyn Steginga, Sarah Jensen, Vicki Vickers, Jan Smith and Brenda Windsor.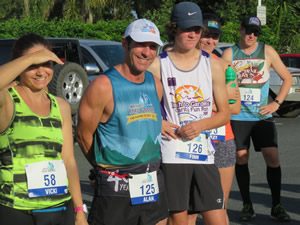 Five kilometre competitors, Josh Bornman and Russell VandenBosch sprinted from their handicap gun start, setting a speedy pace toward their rivals who started on their earlier handicap times, including Shane Barben, Simba Walz, Finn Zamparutti, Colin Hardy, Simon Henderson and Mark Walz.  Female junior runners, Tahlia Campbell and Jamie Bornman ran exceptionally well finishing ahead of experienced runners Kim Saron, Sandra Henderson, Julie Whibley and Leanne Franklin.
Many thanks to race day volunteers, Tim Magoffin, Andrew Short, Jo Hughes, Ricky Parker, Stuart Sprott and Lindsey Wiggins.  Mackay Road Runners are now looking forward to next Sunday's 5km & 9km social run commencing 4pm from Magpies Sporting Complex.  This will be a low key tapering prequel to the following week's prestigious MTest/Mackay Tyrepower Eungella Open King of the Mountain and the Podiatry Mackay/Laura Pettifer Inspirational Junior Eungella King of the Mountain.  Mackay Road Runners/Mackay Triathlon/Mackay Cycling Clubs wish to thank all the event's awesome Sponsors for the 6.4km senior/3.2km junior foot race and a 6.4km cycling King/Queen (senior/junior) race from Netherdale at 8am on Sunday 23rd July.  Mackay Road Runners also wish to advise that should the 6.4km foot race records, male and/or female be broken, one of Mackay Road Runners Members has personally sponsored a $500 çash prize.  The current foot race records, set in 1991 by Legendary local Charlie Martel (27 min 51 sec) and Townsville's Alison Wilson (34:55) have been a tough task ever since that time.