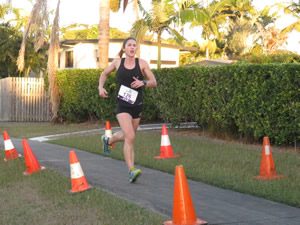 Mackay Road Runners hosted the very testing Robbo's 61 Steps 5km & 10km from the Gordon White Library carpark precincts last Sunday afternoon at 4pm in sunny, but cool and breezy conditions. Approximately fifty runners enjoyed perfect running conditions as they traversed the undulating course which took in the Mt Pleasant suburban streets including Charles Hodge and Annie Wood Avenues before tackling the treacherous Pollock and High Streets. The two loop course successfully ensured 10km runners would not get lost if they got the first 5km right. Many thanks to timekeepers, Lindsey Wiggins, Craig McGahey, Peter Wright and Tim Caddy who did an awesome job starting runners on their individual handicap start times, culminating in a steady flow of runners crossing the finish line in consistent regulation.
In a welcome return to local racing after a short stint in Canada, Julian Picot finished a classy second place marginally behind a fast finishing Leon Ryan. Leon has been having a great year, substantially improving with every outing on the pavement. Leon's first place was a sensational finish ahead of Julian with Liam Mumford settling for third place, mere seconds in deficit. First 10km female on handicap was a very focused and determined Kylie Harbour, who ran a spectacular race to take female honours ahead of Anna Walsh and Danielle Thompson. Congratulations to Bill and Will Morgan who stepped up to the longer distance, easily excelling in their debut 10km.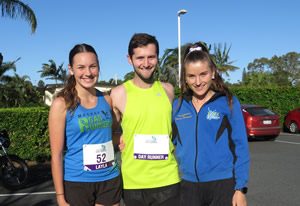 Darrin Pullen clocked an impressive time in the 5km as well as taking out the event from his handicap start ahead of a very fast finishing Rachel Silvestri and Andrew Short. Layla Sanders had an awesome race as well, relegated to fourth by Andrew just before the finish line. Additional competitors across both events who performed extremely well included Jose Short, Lauren Dunne, Alan Zamparutti, Stephen Oberg, Anthony Blines, Mark Walz, Ross Connor, Simon Henderson, Karla Hook, Teegan Philpott, Carol Brown, Stuart Sprott, Jan Smith, Leanne Connor, Sandra Henderson, Arthur Dick, David Isbister, Mitchell Thompson, Jo Skinner, Mark Takagaki, Peter Ellison, June Bradley, Bernadine McKinnon, Judy Zahn, Shane Barben, Fernanda DeLima and Wayne McMurtrie. Congratulations to Brenda Windsor who backed up with an easy 5km after her awesome efforts in the Bravehearts seven marathons in seven days in seven states.
Mackay Road Runners are now focusing on this weekend's social 5km & 10km event commencing 4pm from the Bluewater Quay at the junction of Brisbane and River Streets. The social run will be a gentle outing in the lead up to one the Club's annual Signature events, the M-Test/Torque Tyres and Trailer Parts Eungella King of the Mountain on Sunday 22nd July.