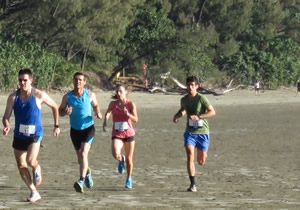 Mackay Road Runners hosted its annual Reef Forest 4.5km Junior and 9km Senior Club Championship race last weekend from the beautiful precincts of the Cape Hillsborough National Park. Over fifty runners enjoyed the challenging events which took place across multiple surfaces, including the exquisite Cape Hillsborough Beach's sandy foreshore, bitumen/dirt roads and the scenic National Park rainforest loop. Weather conditions were absolutely magical for a day of cross country running with a very cool start and warming up to a perfect sunny winter's day in North Queensland.
Club President, Tim Magoffin welcomed eager athletes with an unusually quiet course description, due to the early hour (8am!) and consideration for all the tourists in the area having a sleep in. Tim welcomed many new runners to join the congenial comradery of the Mackay Road Runners Club which was very apparent throughout the run and at the very relaxing post run random draws and sausage sizzle.
Craig Pinkstone (37 minutes 17 seconds) was outstanding in the 9km event, easing into his 9km race with measured patience in the early stages before surging to the lead on the meandering, undulating off roads and rainforest loop, maintaining his gold medal position to the finish line. Previous winner of this event, Shawn Claydon (40:09) was relegated to second, with Mark McFadzen (41:32) collecting the final podium position. Fourth placed Lindsey Wiggins (43:57) came storming home ahead of Leon Ryan (44:35) with Finn Zamparutti (45:42), Greame Harris (45:46:24),Michael Feenaghty (45:46:75), Scott McIntosh (46:35) and Tim Caddy (48:47) rounding out the top ten and all under fifty minutes.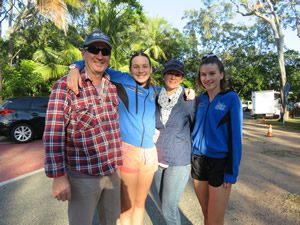 Ashlee Scott (42:30) was sensational once again, scoring maximum Female Club Championship points as well as being fourth overall! Alana Ford (44:10) secured the silver medal and sixth overall ahead of previous winner Carmel Mahon (48:10), Jose Short (48:49), Karla Hook (53:43), Vicki Vickers (54:17), Brenda Windsor (1:06:53), Ulrika Widdowson (1:07:52) and Cilla Martland (1:14:42).
The maximum Junior Female Club Championship points for the day were awarded to Rachel Silvestri, who scorched over the 4.5km course in 22 minutes 04 seconds. Rachel ran an awesome race to also place first overall in the 4.5km, sprinting the testing surfaces to claim victory ahead of the previous weekend's record breaking Podiatry Mackay/Laura Pettifer Inspirational Eungella Junior King of the Mountain and selection into the Queensland Secondary School Cross Country Team. The sixteen year old has found another gear this year and is very worthy of representing Queensland in Tasmania on 10th August. Second placed Layla Sanders (26:42) flew the flag for the Sanders family in the absence of her older brother, whilst Jamie Bornman scored bronze for the girls. Senior runners, Jo Skinner, Rebecca Woods and Nikki Giles enjoyed the shorter course option, performing extremely well against their younger rivals. Josh Bornman (23:38) easily accounted for the 4.5km course claiming valuable Club Championship points followed by senior runners, Jared Spence and Brendan Bishop.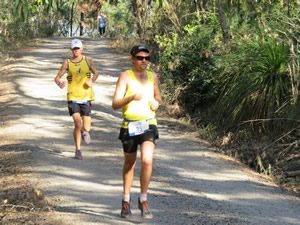 Many thanks to multi-skilled volunteers Paul Tilse (BBQ chef/pantrymaid/Registrar); Tim Magoffin (course setup/packup/MC/random draws barrel boy); Andrew Short (course setup/packup, course marshall), Jose Short (merchandising/social butterfly), Brendan Bishop (timekeeper/result co-ordinator/athlete.)
Congratulations to all Amart Sports vouchers and chocolate random draw winners, especially Adam Knesevic and Alana Ford who unbelievably won with numbers 1 & 2 but will no doubt be sharing with non-prize winner, Jim Ford…..NOT!
In out of town running, Mackay Road Runners Member, Moranbah's Gary Jenkinson performed extremely well in the Australian Outback Marathon in the centre of the Continent, Uluru. Gary's time of 4 hours seven minutes was an excellent result due to the toughness of the event. Gary was feeling the post-race sore muscle side effects later the same day, however, with a couple of Snickers for replenishment, his recovery is on track.
This Sunday's social 5/10km run commences 4pm from the Seabreeze Tavern precincts, Lamberts Beach. Best wishes to entrants in other running events this weekend – Townsville Running Festival and the Eungella Mountain Marathon.