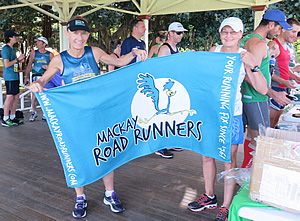 Approximately seventy runners braved the very warm, humid and breezeless conditions for the first Club Championship race on the Mackay Road Runners Program.  The 5km senior and junior Club Championship event commenced at 5pm from the Queens Park Rotunda, Goldsmith Street, with the course taking in the Town Beach Esplanade and East Mackay residential precincts, including Hoey and Dalrymple Streets before linking up briefly with The Esplanade into East Gordon Street for the final 1.5km stretch back into the Queens Park start/finish line.
Many talented junior and senior runners ran extremely well in the oppressively stifling afternoon heat, with Julian Picot taking gold and maximum Open Club Championship points ahead of first Junior and second overall, Jamie Sanders.  Shane Ward snatched third place from previous 5km Club Championship winner, Shawn Claydon, however Shawn still collects third place in the open senior Club Championship category. Other male competitors to dominate were Ryan Palazzi, Carl Pinkstone, Daren Galea, Hayden Connor, Lindsey Wiggins, Tim Caddy, Scott McIntosh, Mark McFadzen, Stephen Oberg, Greame Harris, Anthony Blines, Andrew Short and Ross Vickers.
The female section was tightly contested affair, with in form Ashlee Scott taking the win ahead of exciting junior talent, Rachel Silvestri and the unassuming quiet achiever, Ashley Davies (3rd).  Rachel took maximum Junior Club Championship points allowing fourth placed, Alana Ford to collect the final points available in the Open Senior Club Championship category.  Awesome running by the girls, including Layla Sanders, Caroline Steginga, Jose Short, Robyn Madill, Emma Goodman-Jones, Carmel Mahon, Karla Hook, Jo Hughes, Jo Skinner, Jan Smith, Sarah Jensen, Kim Saron and Cilla Martland.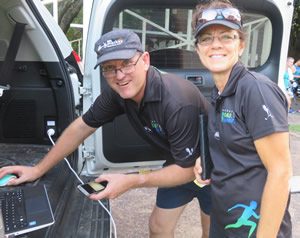 A big welcome to all the new runners including Mitchell Thompson's 27 weeks pregnant wife, who easily completed the 5km in a great time. All runners need to be congratulated on their performances in the testing conditions, however, they were well rewarded post-race with the chance to randomly win one of twelve $25 Amart Sports Vouchers.  Members, their family and friends are reminded to visit Amart Sports and nominate Mackay Road Runners as their preferred Kickstart Club so we can accrue points which in return rewards us with an instore credit.  The Club utilises the credit to purchase vouchers for random draw prizes at various races throughout the year, thus giving back to the Club's Members/volunteers.
Many thanks to the Club's awesome race day volunteers – Timekeepers: Tim Magoffin, Ange Furdek and Julie Whibley; Registrars: Karen Low, Sandra Henderson; Merchandising: Bernadine McKinnon, Jose Short and Jess Harris; race setup/pack up: Andrew Short and Tim Magoffin; Results co-ordinator: Brendan Bishop and Handicapper, Shawn Claydon.
Congratulations to the BMA Mackay Marina Run's very successful 5km Twilight Launch run last Friday night which raised $3,200 for The Leukaemia Foundation.  Thank you to all who attended and volunteered in any way…..this is a great fundraising start towards the region's most popular and inclusive running festival which will be held on 4th June from the beautiful Mackay Marina precincts. The volunteer organising committee and sponsors are working extremely hard to promote the Event so The Leukaemia Foundation can attain much needed funds for their worthy cause.  The Mackay Branch of The Leukaemia Foundation and The Mackay Road Runners Club are the driving forces behind the Event, supported by many valuable major and minor sponsors with its ultimate focus being fundraising as well as improving health and fitness and enjoyment of the beautiful Mackay area and surrounding region.
This Sunday's Mackay Road Runner's 5km/8km weekly event commences 5pm from Quota Park at the Beach end of Bridge Road, East Mackay near The Ocean International Hotel.  Please note to register online as a member ASAP so that you can have your own numbered/personalised computerised timing chip formally recording your race time.  Please ensure that you arrive at least thirty minutes prior to race start, wear your race number on the FRONT of your shirt and check in with the Timekeepers.  Runners are urgently reminded to hydrate very well before and after any training or racing event, especially in the current weather conditions.