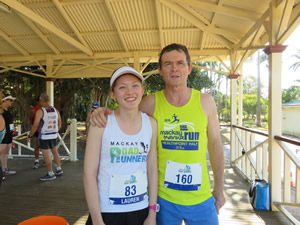 Mackay Road Runners final Club Championship race of the year was held last Sunday afternoon at 4pm from Queens Park in warm, but perfect running conditions. Approximately forty runners were vying for valuable open and age category Club Championship points towards the coveted end of year trophies to be presented at the annual Awards evening on 14th October.
Allan Rask was outstanding, snatching victory from previous winner, Shawn Claydon by a mere three seconds with Carl Pinkstone relegated to third two seconds later. The top three enjoyed shoulder to shoulder racing from the gun with anyone of three definitely gold medal contenders. Fourth placed, Jared Spence was the third placed club member and will therefore, take the final club championship point on offer. The female section was taken out convincingly by Ashlee Scott (11:08) followed by fast finishing Alana Ford (12:32), junior sensation, Maddy Price (13:19) and Carmel Mahon (13:25).
There were some exceptional performances on show including visiting junior runners from the Sunshine Coast, Toby & Cory VanDenBogert with their Uncle, Russell VanDenBosch, Stuart Sprott, Jenene McLellan, Jan Smith, Sandra Henderson, Chris Skinner, Ricky Parker, Simon Henderson, Bill Morgan, Alan Zamparutti, Lauren Morgan, Ross Connor, Judy Zahn, Jose Short, Andrew Short, Julie Whibley and Anthony Blines.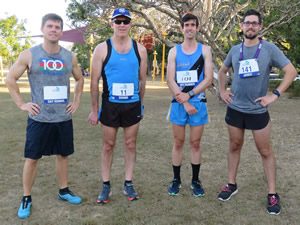 Many thanks to race day volunteers, Peter Wright, Lindsey Wiggins, Kim Saron, Paul Tilse, Andrew Short, Paul Arvidson, Martin Lambert, the Bishop Family, Tim Magoffin and Linda McFadzen. Many thanks also to the Mackay Road Runners Club who sponsored the random draws to twelve lucky recipients, not including Chris Skinner and Ricky Parker.
Local athletes had a myriad of events to choose from this weekend, including the Mackay Triathlon Festival and Run the Whitsunday Great Walk. With full results not available to the writer at time of printing, congratulations to all participants in both events, specifically Jo Skinner who scored gold in her age at the tough 28km Whitsunday run at beautiful Airlie Beach.
In other out of town news, Rachel Silvestri competed in the North Queensland Athletics Championships in Townsville last weekend, racing extremely well in the 800m and 1500m. The sixteen year old placed an exceptional third in the under 18 girls 1500 metres behind an Australian runner and a Cairns top class runner.
Club President, Tim Magoffin, announced the Presentation Night will be held 14th October at 6pm at the Breakwater Bar & Restaurant (old Yacht Club) – all juniors and seniors members, friends and families are most welcome to attend…$65 (non-members) and $55 (member) with the Junior Presentation to be held at the special time of 6.30pm at no cost unless they stay on for dinner. Invitations have been emailed, therefore please RSVP ASAP, however, if you have not received your flyer, please contact the Club.
This Sunday's Club event, The Alarm Guys Jungle 5/10km run commences at 6.30am from the Botanic Gardens playground carpark, Lagoon Street. Please note the morning start time due to the NRL Grand Final in the afternoon…..go COWBOYS!