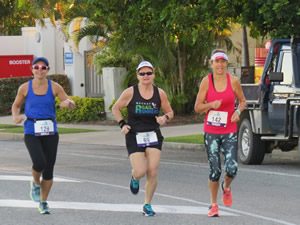 Over forty Mackay Road Runners welcomed the early morning chill factor as they braced themselves for the 6.30am start of the much anticipated annual Pre-Mother's Day 5km & 12km last Saturday morning. The cool, breezy conditions were a little testing in the early stages, however, runners appreciated the perfect running conditions as the race progressed.
Club President, Tim Magoffin welcomed runners to celebrate the most important day of the year, Mother's Day, with a handicap start 5km and 12km run from the Casu Jacks Cafe, Mackay Marina. Casu Jacks' Hostess, Pauline welcomed supporters to partake in a scrumptious brekky whilst waiting for their family and friends to finish their event. Runners then took advantage of the tasty menu to rehydrate and refuel just in time for the sensational Mother's Day random draw prizes donated by Mackay Road Runners.
Marathon running Grandmother, Brenda Windsor announced winners of her Bravehearts 777 fundraising raffle with prizes going to six very lucky recipients. Brenda will be running seven marathons (42.2km) in seven days in seven states at the end of June to raise funds for a BRAVEHEARTS. (BRAVEHEARTS is Australia's leading child protection organisation dedicated to holistically preventing child sexual assault.)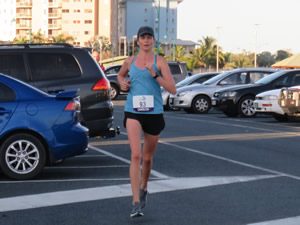 Meanwhile, runners were in the starter's hands, Lindsey Wiggins and Paul Tilse, as they announced race start times based on their individual handicaps. Brianna Mouat had an excellent race, claiming victory in the 5km handicap event ahead of a very fast finishing Andrew Short and Mark Pashalis. Junior runner, Rachel Silvestri claimed fourth and second best time of the day over fastest 5km runner, Jared Spence. Ross Connor crossed the line under a minute later with Carolyn Steginga and Wayne McMurtrie less than twenty seconds in deficit. Layla Sanders claimed second junior female with open runners, Cilla Martland, Leanne Connor, Arthur Dick and Sandra Henderson rounding out the talented field.
Shane Barben's 2018 season has opened with a huge bang, scoring amazing placings in the handicap races thus far. The 12km Pre-Mothers' Day race was no exception as he took gold and the wrath of the handicapper's pencil once again. Teresa Hackney is also in sensational form, claiming second on handicap ahead of talented veteran, Stuart Sprott. Ainslie Heinke continued her consistent form, breaking the tape in the third followed closely by Sarah Jensen, Mark Takagaki, Simon Henderson, Jade Hammer, Jo Skinner and Craig McGahey, who rounded out the top ten handicap places. Tim Magoffin showed an excellent return to form, just pipped at the post by McGahey, with Erin Safe, Kylie Harbour, Vicki Vickers, Alan Zamparutti, Kristian Safe,Judy Zahn, June Bradley, Lindsey Wiggins and Scott McIntosh all clocking handicap finishing times on seventy-five minutes. Ross Vickers had a mixed day out, with a race beating from his wife, Vicki, however, came out a winner, after scoring a random draw prize in the post-race celebrations. Excellent running also came from Karla Hook, Geoff Neale, Carol Brown, Carmel Mahon, Sandy Strong and Jan Smith.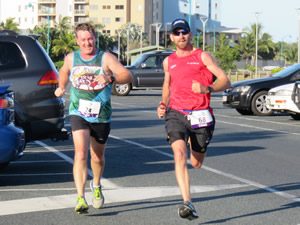 Many thanks once again to race day volunteers, Andrew Short, Tim Magoffin, Lindsey Wiggins, Jo Skinner, and Paul Tilse. Great work by Lindsey to have results updated on the Club website so quickly, much appreciated!
Mackay Road Runners continued further celebrations in the afternoon when one of their Life Members, Shawn Claydon's family hosted his 50th Birthday Party. Shawn's running achievements were a major highlight of the event, with many of his running buddies in attendance, including fellow Mackay Road Runners Life Members, Charlie Martel, Judy Zahn, Paul and Janelle Tilse. Many thanks to Shawn's sister, Sharon and his lovely family and friends for a beautiful afternoon.
Most, but not all runners, are now looking forward to the next Club Championship race, the Alarm Guys Junior 5km and Senior 30km to be held our generous hosts Brendan, Julie, Millie and Hughie Bishop's, 39 Vassallo Drive, Glenella residence. The race commences 6am, the runners are required to be ready to race by the 5:50am briefing with their race chips and numbers attached to themselves and registered in with the timekeeper. Runners are also requested to bring some extra coin for post-race treats donations.
All the best to ultra-marathon runner, Tim Caddy, who will be competing in the North Face 100km this weekend in the NSW Blue Mountains.