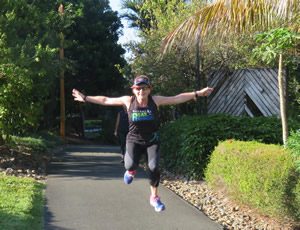 Mackay Road Runners together with the awesome Park Run Team joined forces to stage their annual social Pre Father's Day Fun Run 5km & 10km. Park Run Co-ordinator/Race Director, Christine Davies was sensational in organising the event with a multitude of Mackay Road Runners volunteers to assist the very successful event which had nearly one hundred and forty runners, walkers, prams, babies, kiddies and doggies.
Mackay Road Runners Club President Tim Magoffin assisted Christine in the course briefing and any Mackay Road Runners news updates.  The Club also donated Club logo coffee mugs and Mackay Marina Run running singlets in appreciation of the Park Run organisers and participants.  The Park Run organisers and volunteers are crucial to the successful running of the weekly Saturday 7am 5km events from the Botanic Gardens playground, Lagoon Street, with many volunteers registering more volunteer caps than running ones due to the logistics of staging the event.  Christine announced one of the Mackay Road Runners, Judy Zahn, as the Volunteer of the Month, which was very deserved due to her major assistance to the Park Run concept. The Park Run organisers appreciate all their volunteers, however, more assistance is required so that the Volunteers themselves can do a run/walk…..don't forget to put your name down to help out, it's amazingly rewarding!
Meanwhile, Mackay Road Runners to do well at The Park Run were first across the line in the 5km, Benji Binney followed by speedy Shawn Claydon who continued on to do another lap to make up 10km for the morning. Ashlee Scott, who loves her regular Park Runs and is a devoted Mackay Road Runner, blitzed the course in her usual sizzling style to be the first female in the 5km. The course photographer had a great morning (even though it was a bit early and cold at the start!) snapping the competitors happily running along, doing star jumps, coaxing their doggies and children to make it to the end, with most then enjoying a relaxing breakfast at the Lagoons Cafe.  It was awesome to see so many supportive volunteers and runners enjoying a great morning out in beautifully perfect weather conditions with so many like-minded individuals. The writer also includes those who were not actually in the Park Run, who were pounding the pavement doing their own thing, in their own time and with their own friends.  One older Gentleman who regularly takes his thirteen year old dog for a walk through the Botanic Gardens trails, then puts him in the pram when his (the dog) arthritis starts playing up, was particularly inspiring.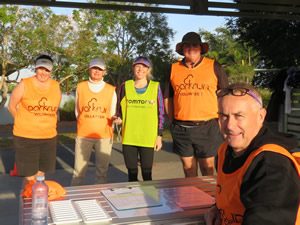 Other runners to do well were Jared Spence, Jo Skinner, Daren Galea, Karlee Hayden, Scott Todd, Monica Green, Kendall Holmes, Rachel Burling, Carla Smith, Craig McGahey, Carolyn Steginga, Sandy Marchetti, Jo Hughes, Andrew Short, Mitchell Thompson, Matt Graves, Scott McIntosh, Tim Magoffin, Rose Nielsen, Chris Skinner, Natasha Steenkamp, Sean Kelly, Judy Keogh, Sherrie Savage, Charlie Bone, Sarah Jensen, Tam Wanstall, Jose Short, Shelley Binney, Bernadine McKinnon and June Bradley.
This Sunday's Mackay Road Runners event commences 4pm from Bonson's Scrub Road, The Leap, with carpooling very desirably requested at 3:30pm at Coningsby State School, Bruce Highway (near the servo) due to the limited space at the start line.  The course will take runners on an undulating and very challenging course from Bonson's Road onto Ian Reddacliffe Drive and return (6km) with a repeat loop for the 12km course…bonus spectacular vistas from the pinnacle at no extra cost.  Runners are expected to be signed in with the registrar and timekeeper ten minutes before gun time so that volunteers can warm up for their own race and Race Director can present course description and any updates.  The timekeeper advises Members it is crucial to wear their timing chips and race numbers to secure their times via the electronic timing system. All non-members are most welcome to participate in any of the Club's events for a small cost, although no formal time will be recorded on the Club results… however, non-members are warmly invited to join so that they can