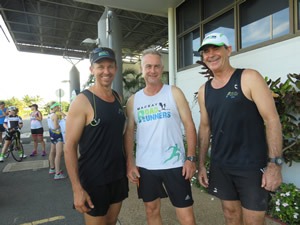 Mackay Road Runners' Club Captain, Jim Ford's annual Plant Paget 10km course was once again a very technical event, where runners formed teams of three from differing age decades.  They then had to run towards well known landmarks in the Paget Industrial area where a specific symbol was marked.  The teams could designate individuals to split up and search for the nominated symbol, then regroup to note the symbol on their Captain's check sheet, with the team having all the correct symbols and back in the fastest time deemed the winner.  The fastest runners would not necessarily be the winning team, just whoever could organise themselves to find the symbols and be back to the finish line first, therefore, knowing the Paget area would be a distinct advantage. Teams were very excited and quite competitive as they sprinted onto the course to seek out the specific locations, endeavouring to be back first and within the hour to claim the coveted prize.
Julian Picot's team of Jose Short and Nikki Giles displayed some excellent navigational skills, with Nikki using her adventure racing experience to track down landmarks as well as staying on course and motivating the team.  Teams to do well included but were not limited to:- Carmel Mahon, Niamh Buckley, Brenda Windsor, Shawn Claydon, June Bradley, Tim Caddy, Stephen Oberg, Ross Connor, Melissa Harris, Karen Baker, Alana Ford, Ashlee Scott, Peter Ford, Robyn Madill, Andrew Short, Simon Henderson, Russell Van den Bosch, Glenn Baker, Bernadine McKinnon, Lindsey Wiggins, Carl Pinkstone, Ashlee Scott, John Rodden and Ulrika Widdowson.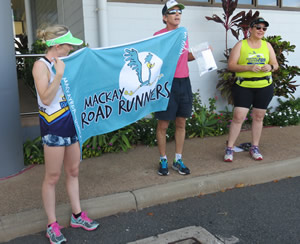 Many thanks once again to Race Director, Jim Ford for setting up this particular time consuming course, where landmarks had to be noted and then any leftovers collected afterwards.   Jim spends an enormous amount of time constructing the innovative summer offseason events so that runners can enjoy a variance of concepts each week. His assistant, Alana Ford has also been amazing supplying prizes and post run refreshments each week with the gold coin donations by runners. Alana also proudly displayed the sensational new Mackay Road Runners towel which was organised by the Club's awesome Merchandising Co-ordinator, Ulrika Widdowson. The towels will be available for purchase for approx $40 and will be available in two colour choices (blue and black) by the start of the 2017 formal running program, therefore, those interested in purchasing can show their interest and order by emailing the Secretary at roadrunnersmackay@gmail.com.  Thank you Ulrika…..you have done a spectacular job!
Mackay Road Runners Annual General Meeting will be held Monday, 30th January at 5.30pm at The Grove Tavern, Andergrove. Intending Members, their family, friends and supporters are encouraged to attend and support the Club. All Committee positions are formally vacated and need to be refilled to ensure a successful 2017 season of running fun and comradery…..ALL welcome!!!!!
Member registration is now open – please register via the registration page.
Website will soon be undated with current information for 2017 including:-
Annual Membership Fees for 2017 – $57 for Senior Member (18 years and over); $24 for a junior Member (12 – 17 years); Volunteer Member – no cost but please register.
Please note Wednesday social 5km runs are back to 6pm at Blue Water Quay; 5am Saturdays are continuing from Parkside Plaza (followed, of course, by coffee) and the 2017 Calendar will soon be available on the website – look out for some exciting news re the King of the Mountain!