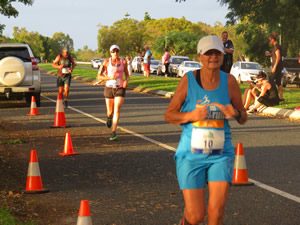 Approximately eighty runners enjoyed the annual Mackay Road Runners Ocean International 5km & 8km Canter which was held in warm, humid conditions from the Quota Park precincts at 5.30pm. Runners revelled in the welcome cooling sea breezes as they forged their way along the east coast of Australia from Far Beach to Town beach and return. Club President, Tim Magoffin gave an informative course briefing as well as an update on recent and upcoming news within the Club.
Volunteer Timekeepers, Lindsey Wiggins and Tim Caddy together with race caller Tim Magoffin were awesome in efficiently setting runners underway based on their handicap. Runners find the Club's handicap starts a great concept differing from scratch start races. There is a lot of work allocating members' handicaps, clocking and processing finish times, many thanks to them for their excellent work. Once runners have registered in with the Timekeepers prior to the race, runners must then be very aware of their own individual handicap start time so that they can commence on their allocated handicap start. Thanks to Tim Magoffin for assisting runners by calling them to the start line, however, runners must also take on the responsibility of knowing their own handicap start time. Members are also reminded to always wear their timing chip and race number and be locked in with the timekeeper at least fifteen minutes prior to race start.
Highest handicap marker, Julian Picot had a great race, sprinting the entire course in his usual fashion, catching and passing approximately fifty runners to get to the finish line marginally behind a fast finishing Greame Harris. Meanwhile, the 8km Handicap winner was Erin Safe, who easily cruised over the flat course, with Shane Barben, Teresa Hackney, Stacey Tresise, Peter Ford, Joanne Ashford, Karlee Hayden, James Wortley, Glynis Forse and Ainslie Heinke following in quick succession. Kristian Safe had the company of his two children in the running pram, whilst running the entire 8km course and still finished in a very respectable time. New runners to the Club, Lauren Berts, Anna Berrigan, Lauren Dunne, Kylie Harbour, Brittany Suratman and Belinda Van Lint performed extremely well, competing to a very high standard with their more experienced peers ie Jose Short, Vicky Vickers, Carmel Mahon, Karla Hook, Jan Smith, Judy Zahn, Ashlee Scott, Carolyn Steginga, Brenda Windsor and Julie Whibley. Their male counterparts also had a great outing in the testing conditions including Leon Ryan, Luke Schatkowski, Carl Pinkstone, Scott McIntosh, Daniel Stampa, Jared Spence, Josh Eisemann, Peter Ellison, Anthony Blines, Charlie Bone, Simon Henderson, Darrin Pullen, Steve Oberg, Stuart Sprott and Tim Magoffin.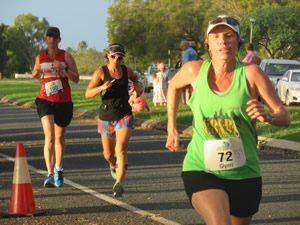 Junior runners, Rachel Silvestri, Layla Sanders, Will Morgan, Simba Walz, Leo Walz and Jess Harris were sensational in their 5km event conquering the winding pathways in their usual speedy pace. Shane Coppin claimed victory in the 5km based on his handicap start/finish, followed by Mark Pashalis, Mark Walz, Di Clulee, Jenny Smith, Simba Walz, Andrew Short, Bill Morgan, Jo Hughes and Will Morgan who rounded out the top ten handicap finishers. Excellent improvement performances came from Tam Wanstall, Arthur Dick, Paula Easton, Leanne Connor, Paul Tilse, Sandra Henderson, Ross Connor, Bernadine McKinnon, Jenny Harmer and Cilla Martland.
Congratulations to local runner, Victoria Beck who scored an amazing second placed female (1st in her age category) in the New South Wales Blue Mountains Six Foot Track 45km race (Katoomba to Jenolan Caves). Victoria was spectacular in the very tough and challenging event, finishing only minutes behind the first placed female and 33rd overall out of 882 runners.
Mackay Road Runners Publicity Officer, Janelle Tilse will be involved as a runner in next week's Queens Baton Relay on Tuesday 20th March, where she will be running her relay section on Malcomson Street, North Mackay at 3pm. Many thanks to Skye Rettke for nominating Janelle…..she is so looking forward to the unique occasion.
This Sunday's Mackay Road Runners K-Mart Loop 5km & 13km event commences 5pm from the Gordon White Library carpark. This race will be a scratch start, however, runners still need to adhere to the registration check in times and regular rules around arrival times, etc.
Many thanks to race day volunteers, Andrew Short, Tim Magoffin, Lindsey Wiggins, Tim Caddy and Paul Tilse….great job, week in week out!