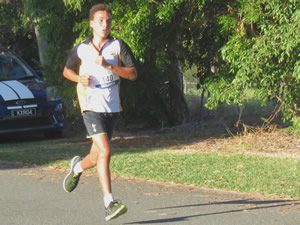 Mackay Road Runners Ocean International Canter 5/8km was held in warm, breezy conditions from the parklands precincts at the beach end of Bridge Road.  Approximately sixty runners enjoyed the first handicapped start race of the year, which was held  at 5pm last Sunday from the Far Beach Esplanade to the Town Beach Sandfly Creek pathway via the East Mackay residential streets and return.  President, Tim Magoffin explained the course and new computerised timing system before sending all runners off on their individual handicap start times. In a perfect World, the handicap start is a great way for runners of all abilities to have the opportunity to run at the front of the pack or chase down the rest of the field in a bid to all cross the finish line at the same time, however, this is rarely the case, depending on how individual athletes are performing on that particular day.  The handicap system is also a great way for runners to improve their times by trying to keep ahead of the faster runners for as long as they can and vice versa, the faster runners have the opportunity to chase down the field instead of usually being ahead of them.  Runners' handicaps will be adjusted throughout the year to allow for more even racing as runners consistently show improvement or drop off their pace.
New junior runner to the Club, Benjamin Binney was impressive in his first 5km handicap race, breaking the tape first ahead of a quality field of more experienced junior and senior runners. Benji is a quality athlete in various other sports including representative soccer where fast running is also crucial skill. He was in great company with other talented male juniors, including Will Morgan, Matthew Smith, Finn Zamparutti, Leo Walz, Hayden Connor, Simba Walz and Leon Barben.  Female juniors were also sensational with another new runner, Maddie Price slicing through the field in great style ahead of Rachel Silvestri and Lauren Morgan based on handicap start.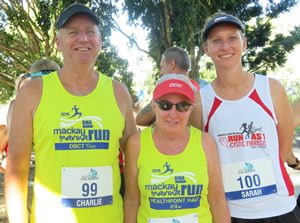 As with the 5km handicap start, Tim Magoffin and Matthew Magoffin were in awesome control of the new timing system, announcing the 8km runners to the start line to commence their race based on their handicap times.  With many new runners in the field, Handicapper, Shawn Claydon will be adjusting the handicaps as the season progresses, however today's winner over the 8km was Matt Graves marginally ahead of Jared Spence and big improver, junior runner, Ryan Barben. Male competitors who performed extremely well in the warm conditions were Martin Lambert, Alan Zamparutti, Charlie Bone, Mark Walz, Russell VandenBosch, Scott McIntosh, Simon Henderson, Andrew Wallace, John Rodden, Norm Dawes, Shane Barben, Stephen Oberg, Rosss Vickers, Andrew Short, Leon Ryan, David Isbister and Stuart Sprott. The first female based on handicap was talented Ashley Davies followed by Alana Ford and Sarah Jensen who were ahead of a bevy of talented runners including Shelley Binney, Jose Short, June Bradley, Carmel Mahon, Karla Hook, Ashlee Scott, Vicki Vickers, Pamela Houston, Bernadine McKinnon, Jan Smith and Brenda Windsor.
The final formal results including actual race times, handicap times and placings will be on the website as soon as final processing of the results can be completed.
Many thanks as usual to the awesome race day team of volunteers including race setup/pack up, handicapper, timekeeping, registrars, etc….. Runners are reminded to still wear their race # bibs on the front of their shirts and most importantly wear their timing chip laced to their shoe so that timing can be accurately recorded as they cross the finishing mat.
This Sunday's Kmart Loop scratch start 5km & 13km will commence from the Gordon White Library carpark with race day registration strictly cut off 10 minutes prior to the 5pm gun time. Members are requested to check the Club Calendar on the website to see if/when they are rostered on as the Volunteer List has now been updated and also emailed to Members. The Club appreciates and thanks you for your assistance.