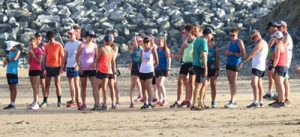 The Mackay Harbour North Wall was the place to be late last Sunday afternoon with the awesome sea breezes allowing runners a welcome reprieve from the stifling humidity throughout the weekend. Club Captain/Race Director, Jim Ford was in his usual good form, creating a challenging run course that contained a multitude of variety to suit all abilities, with the usual options for shorter and longer distances up to ten kilometres. Runners left from the beach precincts in front of the Harbour's North wall tracking up the coastline towards Lamberts Beach Lookout via the hilly sand dunes and meandering bush trails before the homeward journey into a tough headwind.
Runners who enjoyed the challenging course included Julian Picot, Shawn Claydon, Carl Pinkstone, Ashlee Scott, Jo Skinner, Craig McGahey, June Bradley, Carmel Mahon, Tim Caddy, Paul Tilse, Stephen Oberg, Andrew Short, Robyn Richards, Emma Goodman-Jones, Robyn Madill, John Rodden, Peter Ford, Shane Barben, Leon Barben, Ryan Barben, Alana Ford, Karen Low and Jose Short.
With the 2017 formal Mackay Road Running program to commence in two weeks, Jim's off season summer social program has been a great asset to runners in retaining their fitness over the three month formal Club break from November to February.  The last summer off season run will be held this Sunday at 5.30pm from the Boomerang Hotel carpark precincts, with post run celebratory treats  for runners and their supporters. Many thanks once again to Jim and Alana Ford for organising the events and post run refreshments……so much appreciated!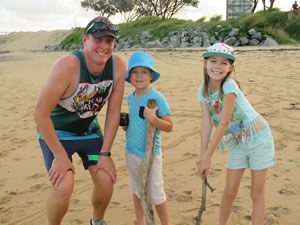 The Annual General Meeting was held 30th January at The Grove, Andergrove Road, Andergrove with the formal committee still to be confirmed. The formal 2017 Calendar has been approved however, technical difficulties have been experienced and will be on the website soon.  Members can now register online with 2017 fees once again kept to a minimum, therefore, very reasonable for individuals and families. Mackay Road Runners are a very inclusive club and welcome all new and existing runners/volunteers to join in their weekly events.
Meanwhile, in international running news, Tim Magoffin enjoyed a family homestay swap break in Colorado over the Christmas break which involved many icey activities including the high altitude Denver 10km Polar Prowl run.  The minimum temperature was minus 16 warming up to a mild high of minus 13, however, Tim's usual organised self, had prepared the specialised running gear required in advance.   He was absolutely startled to see the eventual winner of the 10km start the event in shorts!
The community is reminded that Mackay Road Runners will be at the Mackay Regional Council's Sporting Expo and Sign-on at the MECC on 12th February from 9am to 1pm……all invited to visit them through the unmissable massive Mackay Road Runners blow up start/finish arch.
Congratulations to the Mackay Regional Council's (MRC) Australia Day committees for their awesome management of celebrations throughout the region including the spectacular Australia Day Awards Evening on Wednesday, 25th January, which had a record audience attendance of five hundred and forty, and was organised and hosted by MRC's Corporate Communication & Marketing Manager, Ken Furdek and his amazing staff. The MRC Mayor, Greg Williamson united on stage with Ken to present the coveted awards to the eventual winners.  Congratulations to the many nominees and to those who nominated them.