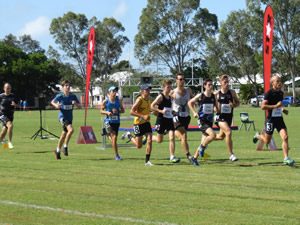 Mackay Road Runners had a very successful Mackay City Motors Auto Group North Queensland Games outing with many of its members taking home well-earned gold, silver and bronze bling. The Club hosted a 5km & 10km event from the spectacular surroundings of the Botanic Gardens Amphi-theatre precinct. The one loop five km course and two loop 10km course showcased the serene atmosphere of the Garden together with a boost of awesome tunes to uplift runners and supporters from Mackay's most famous DJ, the delightful Jungle Jim. With a bevy of sporting options on offer at the North Qld Games, Race Directors, Paul Tilse, Shawn Claydon, Ashlee Scott and Arthur Dick were very impressed with the attendance and even more so with the assistance of their many volunteers, which was well appreciated by local and interstate runners.
Approximately fifty runners burst out of the gates to initially tackle an uphill section towards the Amphi-theatre carpark before being directed by race marshal #1, Arthur Dick to head right onto Horse & Jockey Road towards the entrance of the Botanic Gardens. Race Marshall #2, Tam Wanstall, also happily directed athletes continue on the meandering track south towards the City Gates turnaround where race marshals, Judy Zahn, Stuart Sprott, Leanne Connor, Dale McIntosh and James McIntosh kindly supported runners in their bid to conquer their respective events. Runners also enjoyed the Botanic Gardens waterways road crossing signalling the final two hundred metres to the finish line, where they were met with a finish ticket by road running stalwart, Mark Pashalis.
The five kilometre overall winner, Will Morgan had an outstanding run, clocking seventeen minutes 39 seconds in the humid, but perfect running conditions. First female, Rachel Silvestri (19:23) ran brilliantly to place third overall and first in her age category. Townsville competitors Julia Anderson (40:10) and Ian Anderson (39:40) put on an awesome display of North Queensland running, each taking gold in the male and female 10km event. Competitors were delighted with their individual performances, including Lydia Dodds, Ashlee Scott, Jenny Smith, Sandra Henderson, Priscilla Martland, Tomas Heikkinen,Mark Rainsford, Ross Connor, Bill Morgan, Andrew Short, Mark Walz, Simba Walz, Sharyn-Maree Bunt, Fernanda DeLima, Kylie Harbour, Belinda Van Lint, Jo Ashford, Jeanette Elms, Carmel Mahon, Jade Hammer, Jason McCord, Joe Grech, Stephen Oberg, Mark Takagaki and Simon Henderson.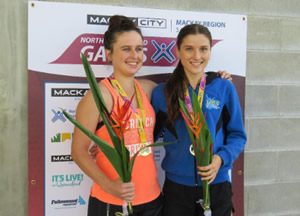 Local running legend and Mackay Road Runners Life Member, Shawn Claydon with Mackay Regional Council and NQ Games Chair, Kev Casey were on hand to congratulate runners on their achievements with gold, silver and bronze medals in all age categories. Thank you to Shawn and Kev for organising medals which added to the congenial awards presentations. Kev has been extremely busy over the last twelve months and especially in the final weeks, heading the NQ Games organising committee. As joint Medal Presenter, Shawn, whose outstanding running, personal achievements and dedication to the Club as Treasurer and Life Member, made for a very special treat for the organisers and runners alike.
Mackay Road Runners Club President, Tim Magoffin, congratulated Paul Tilse and his awesome team on staging a superb event which was well supported by the local running fraternity and its generous Club volunteers.
Meanwhile in out of town and overseas racing, many locals attended the very popular Stamford Financial Hamilton Island Hilly Marathon, Half Marathon, Half Marathon Teams event and junior races….results not to hand at time of printing.