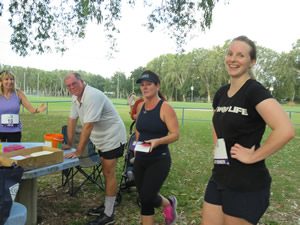 Mackay Road Runners Club held their North Harbour Loop 5km & 11km run commencing from The Cathy Freeman Oval, Slade Point. Perfect running conditions were on offer albeit for the strong South Easterly winds and humidity which caused havoc with runners as they tracked south towards Pacific Esplanade, Lamberts Beach and beyond to the Harbour Beach North Wall. With approximately forty runners in the starters hands for a handicap start from 4pm Sunday afternoon, timekeepers, Peter Wright and Tim Magoffin did an excellent job getting competitors underway based on their individual handicap times.
Mackay Road Runners welcomed the return of elite athlete, Liam Mumford, who is home on holiday break from his USA University until August to compete in several Mackay Road Runners signature events including the BMA Mackay Marina Half Marathon and the Eungella King of the Mountain. Liam has been performing extremely well in the States, recently collecting a gold medal in the Virginia Half Marathon in one hour 19 minutes in minus one temperatures. Liam will be seeking a top three placing in the BMA Mackay Marina Run and is hoping for very cool conditions. Temperatures for this weekend's Marina Run have been forecasted for single figures, however, our coolest winter is not likely to mirror his current training conditions.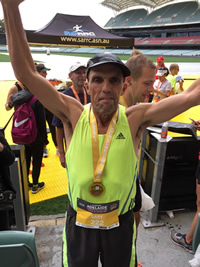 Life Member and record holder of the Mackay Road Runners' Eungella King of the Mountain and Magic Mile, Charlie Martel was on hand to collect his Member/race # 2 which is a coveted number in long standing member circles. Member numbers 1 # 2 were held by original Mackay Road Runners Members, Ian Phillips and Trevor Baldock respectively, who were integral in starting the Mackay Road Runners Club forty-two years ago. Ian, who still resides in Mackay has not run for several years and Trevor, who lives interstate, have always paid their Membership to the Club to retain their original race/club numbers however, this year have generously allowed their numbers to be reissued to the next two numbered Members. Life Member, Merv Shields is now the current stakeholder of the very special #1. Fred Farmer, who has passed away, retains #3 as a special gesture by the club. Life Member, Wendy Shields now moves to #4, Jan Smith #5, Life Member Paul Tilse #6, Life Member Janelle Tilse #7, Life Member Judy Zahn #8, Life Member Shawn Claydon #9 and BMA Mackay Marina Run's Sandy Strong rounds out the top 10.
Congratulations to two Mackay Road Runners, Carl Pinkstone (Mackay) and Gary Jenkinson (Moranbah) who successfully competed in the Adelaide Marathon this weekend. Carl's excellent time of 2 hrs 57 minutes was outstanding as was Gary's three hours 40 minutes. Carl & Gary claimed the conditions were a little cooler than Mackay & Moranbah, however, totally enjoyed the race course and atmosphere. Carl claimed a spectacular 17th overall and claiming 2nd in his 25-29 yrs age category. Gary finished 64th overall, and sensationally moved from 5th in his age category to take gold in the 60-64 years in the 42.2km event…..well done Gary and Carl, congratulations!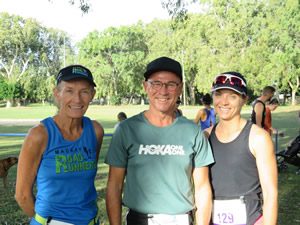 Meanwhile locally, The North Harbour Beach Loop was run and won in a blustery sunny Sunday afternoon. Leo Walz ran exceptionally well to take out the 5km on handicap with excellent performances also from Andrew Short, Mark Walz, Glynis Forse, Simba Walz, Arthur Dick, Paula Easton, Jenene McLellan, Cilla Martland and Ross Connor.
In the eleven kilometre race, runners endured the tough headwind along Pacific Esplanade as well as the sandy foreshore section from Lamberts Beach Tavern to the Harbour's North Wall. Charlie Martel performed well to place first on handicap in his return run with the Club followed by a bevy of excellent runners including Andy List, Liam Mumford, Matt Graves, Mitchell Thompson, Leon Ryan, Danelle Thompson, Mark Takagaki, Karla Hook, Jan Smith, Jose Short, Simon Henderson, Allan Zamparutti, Stuart Sprott, Greame Harris, Tim Caddy, David Isbister, Martin Lambert, Erin Safe, Ainslie Heinke, Kylie Harbour, Darrin Pullen, and Jo Ashford.
Runners are now tapering for this weekend's BMA Mackay Marina Run. Runners are requested to nominate in their chosen event online by Friday 1st June – mackaymarinarun.com Late nominations will be taken at the race bag collection at the Mackay Marina on Saturday 2nd June from 12pm to 5pm (please bring cash). Singlet/t-shirts are not guaranteed to be available and no nominations will be taken on race day. Volunteers for the event have given a massive amount of time throughout the year to ensure the success of the event with funds being raised for The Leukaemia Foundation….please thank them – be generous and kind to all runners, supporters and volunteers.