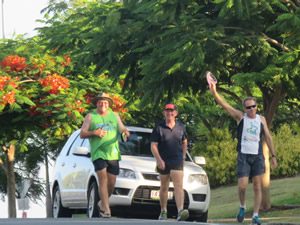 New Year's Eve's late afternoon saw over twenty dedicated Mackay Road Runners meet at the Mackay Base Hospital carpark for a 6km or 10km run in very steamy conditions. Club Captain and Race Director, Jim Ford very thoughtfully warned runners of the extreme conditions, reminding them to back off their pace and use all water taps at regular intervals rehydrating at every opportunity. The course, which had runners depart the carpark towards the old Hospital Bridge, proceeded onto the meandering Bluewater Trail, thus providing runners with awesome scenic river vistas whilst challenging themselves in the testing weather.
Local running champion and current Eungella King of the Mountain titleholder, Liam Mumford, found the warm conditions slightly suffocating whilst home on his University winter break from Virginia, USA, although he still managed to blitz the field in his usual sprint style. Liam will remain in Mackay until mid-January just in time to celebrate his twenty-second birthday with his family and friends before heading back overseas to complete his studies.
Congratulations to all runners in completing their respective distance option especially after enjoying their Christmas spoils and prior to peaking towards their New Year's Eve celebrations. Many thanks once again to Jim Ford and Alana Ford for organising the event and post-race refreshments amid their own busy festive break.
This Sunday's off season casual social run will commence 5.30pm from the Mackay Harbour boat ramp carpark precincts (Old Mulherin Park) for a gentle jog up and down Mt Bassett. All Club members and non-members are very welcome with only a gold coin donation towards post-race fruit, etc….
Intending Mackay Road Runners members are reminded of the upcoming Calendar and Annual General Meetings – all input gratefully considered and volunteers most valuably accepted.