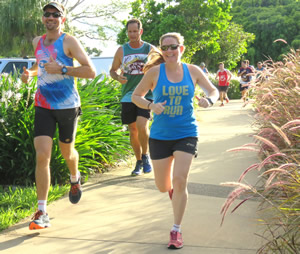 Mackay Road Runners were raring to run on the first day of 2017 with a 5/10km social run from the Base Hospital carpark precincts. Approximately thirty runners braved the very humid conditions by utilising Mackay's unique Pioneer River views via the Bluewater Trail, Riverside Drive and the Ron Camm Bridge in a bid to start the running year off on a high.
In the absence of Race Directors, Jim Ford and Alana Ford, Ashlee Scott and Carmel Mahon did a great job explaining the 5/10km distances with options to vary the distance if they chose.  The offseason social runs are of a very social nature, therefore runners can opt to walk/run their desired distances within the designated course.
The running 'Mumford Sons' were in full force at the event with Liam, Ryan and Travis all taking part, but not a word was sung without the presence of the Mumford 'Dad' who was nowhere to be seen.
Ashlee Scott and Liam Mumford lead a quality field of runners including Greame Harris, Carmel Mahon, Stephen Oberg, Tim Caddy, Shane Barben, David Isbister, Jo Skinner, Craig McGahey, Brenda Windsor, Jo Hughes, Karen Baker, John Rodden, David Isbister and Robyn Madill.
Mackay Road Runners' junior athlete, Mitchell Kelly has been nominated for the Mackay Regional Council's Australia Day Sports Awards, therefore, we wish him all the best among a bevy of worthy nominees which will make the Judging Panel's job very difficult.
This Sunday's social run commences 5.30pm from the Mackay Harbour boat ramp carpark precincts and will include a meandering, flat one kilometre warmup, with the reward of some awesome ocean vistas after some minor ascent (Mt Bassett hill) repeats….ALL welcome, see you there…. for further info, see the calendar.