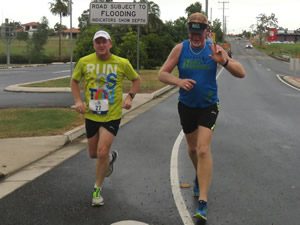 The Mackay Road Runners had a strong contingent of local runners attending the Gold Coast Running Festival last weekend, with many first timers attempting their goal event which included the Marathon (42.2km), Half Marathon, 10km and 5km.  Victoria Beck was sensational, clocking 2 hrs 42 min in the Marathon, 4th in her age and 9th female out of thousands of runners at the iconic event. Jose Short and Bernadine McKinnon completed their first marathon, recording very respectable and of course, personal bests times.  Whilst the Gold Coasters were celebrating their morning achievements, Mackay Road Runners Club held a social 5km & 10km event from the Mt Pleasant Tavern carpark precincts at 4pm.
Club President, Tim Magoffin welcomed approximately forty runners to the event to participate in the 5km or 10km event before briefing them on the course description, which took runners from the undulating Mt Pleasant suburb towards the City Centre for the 5km runners and beyond towards The Fish Markets for the 10km. Several runners competed very well, extending themselves into unknown territory including Carolyn Steginga, who completed her first 10km.  Carolyn was very excited to reach the milestone distance, despite her pre run jitters.  Junior runner, Jamie Sanders ran a well-paced 10km to cross the line first ahead of local running champion, Shawn Claydon. Jamie and Shawn were shoulder to shoulder with approximately five hundred metres to go, when Jamie surged forward to take the overall lead.  Ashleigh Davies easily cruised the 10km field as did Alana Ford, Carmel Mahon, Chris Skinner, David Isbister, Peter Wright, Peter Ford, Ricky Parker, Josh Bornman, Simon Henderson, Judy Zahn, Vicki Vickers, Andy List, Julie Whibley and Jo Skinner. Rachel Silvestri maintained her winning ways, easily skimming over the 5km course ahead of Layla Sanders, Maddy Price, Jamie Bornman and Colin Hardy. Many thanks to race day set up volunteers, Andrew Short, Sandra Henderson and Tim Magoffin.
This Sunday's Robbo's 61 Steps 5/10km event commences from the Gordon White Library carpark, Mt Pleasant.  Runners are required to be signed on with the Registrar and Timekeepers by 3:50pm sharp with racing to commence at the gun time of 4pm.  Runners must also have their individual computerised timing chips fastened securely to their shoes and their race number plate on the front of themselves.  Casual day runners are welcome to attend, however an official race time will not be formally recorded.  Members results are usually uploaded to the mackayroadrunners.com.au website within 24 hours, however, if not, please be patient as there may be processing issues.