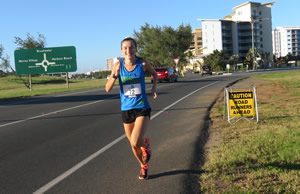 Mackay Road Runners held its annual Mt Bassett 5km & 11km in very warm conditions at a 4pm handicap start from the beautiful precincts of New Mulherin Park, East Point Road.  Over fifty runners including many new athletes competed across the two events, with the course meandering from the southern end of East Point Road onto Harbour Road, including ascents of the very testing Mt Bassett.  Club President, Tim Magoffin and Asset Manager, Andrew Short, Registrar, Sandra Henderson, Timekeepers Lindsey and Matilda Wiggins and Arbrey Graves were the awesome race day volunteers which included setup/pack up, timekeeping and race nominations…….they are among many valuable Members assisting the club's race day activities and ongoing success.
The handicap start race saw junior runner Jamie Sanders well back in the 11km field as the last starter due to his awesome running ability.  Jamie ran with exceptional maturity to chase down senior top class runners, Shawn Claydon and Ryan Palazzi who both bolted from the starter's gun a few minutes ahead of him.  Shawn had the fastest time ahead of Jamie by only two minutes, however the handicap winner on the day went to new runner, Chris Skinner. Second place was new Mum for the sixth time, Kathleen Munn, having had her last baby only ten months ago……amazingly gifted athlete! Third on handicap, Finn Zamparutti, ran extremely well ahead of fast finishers, Jo Skinner, Jared Spence, Craig McGahey, Emma Goodman-Jones, Matt Graves, Greame Harris and Stuart Sprott. Michael Feenaghty finished just outside the top ten by three seconds, followed by Alan Zamparutti ten seconds later. Big improver, Sarah Jensen, currently in superb form, was next to finish twoseconds later, with Charlie Bone, one second later. Congratulations to Carmel Mahon on being the fastest female, placing 16th across the finish line based on her handicap start.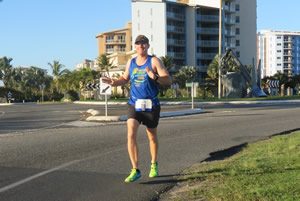 In the 5km handicap start, impressive Rachel Silvestri recorded the fastest time overall, however, Simba Walz crossed the line first on handicap and the fastest male time. Paige Stolberg easily cruised over the course, claiming second place on handicap ahead of her older rival and biggest supporter, Edan Stolberg. Layla Sanders, Lauren Morgan and Mark Walz crossed the line next in quick succession with Rachel in seventh handicap place. Carolyn Steginga's eighth place was less than one minute ahead of Paul Tilse, Kim Saron, Emma Carlos, Colin Hardy, Leanne Connor, Jenene McLellan, Russell VandenBosch, Hayden Connor and Sandra Henderson.
This Sunday's 5km & 11km North Wall Harbour beach run commences 4pm from Cathy Freeman Oval, Slade Point.  All Members are to arrive at least thirty minutes prior to gun time with their timing chip and race numbers securely attached.  Non-members are most welcome to run however, their time will not be recorded on the formal results….please register to become a Member for minimal cost to be eligible for Member benefits, including formal results, emailed updates, newsletters, trophies,etc….
The BMA Mackay Marina run is less than two weeks away……do NOT miss out, register online now in your choice of events, as well as a unique Friday evening with race Ambassadors, Benita Willis and Steve Moneghetti!  If you don't run and want to be involved…..contact the Mackay Road Runners Club …….all assistance is much appreciated.