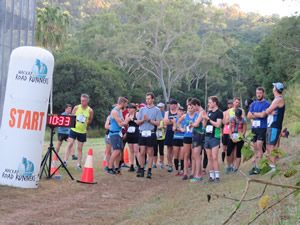 Approximately forty runners enjoyed the Meng's Cross Country Rowallan Park Trail Run in beautiful cool and sunny conditions. The technical race had runners encounter lots of twists and turns but all beautifully marked by Mackay Mountain Bike Club's Graham Robinson. Many thanks to Graham for ensuring an enjoyable event which included meandering rocky, grassy and hilly variations to keep runners focused throughout the entire event. Mackay Road Runners would like to thank The Scout Association and The Mountain Bike Club for their assistance and use of their excellent facilities, awesome vistas and generous support.
Mackay Road Runners Club President, Tim Magoffin thanked Members, their family and friends for supporting the previous weekend's most successful BMA Mackay Marina. Run. The tenth anniversary event was an unheralded success, with over three thousand three hundred runners across all events, including two thousand in the O'Hara Super Air Mart/Daikin 5km Corporate Challenge. The event was a winner for the local and wider Community and individuals, with a significant amount of funds raised towards the Event's Charity, The Leukaemia Foundation. In addition to the valuable volunteers, the Event's Sponsors were integral with their ongoing commitment to what is the largest regional running festival in Queensland.
Meanwhile back to local racing, Carl Pinkstone and Julian Picot were joint leaders throughout the 6.9km Rowallan Park trail run, with Carl claiming victory in the final loop. Carl was totally warmed up before the race, running from his South Mackay home to the start line. Off road bunyip enthusiast, Leon also warmed up with a gentle run from his Glenella home to the Rowallan Park, sprinted the course, then easily charged on home for breakfast. Andrew Short, Derek Woods, Mark McFadzen, Steve Oberg, Greame Harris, Peter Ellison, Matt Graves, Scott McIntosh, Mitchell Thompson, Peter Shuttlewood, David Isbister, Jamie Sanders and Craig Pinkstone also revelled in the perfect running conditions.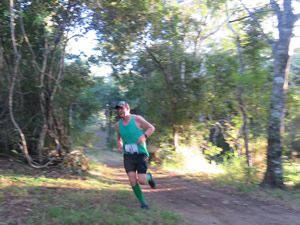 Jose Short thoroughly enjoyed being in nature after a late night of school work by tangenting off to see more of the unmarked course before crossing the finish line. Excellent running also came from Ainslie Heinke, Karla Hook, Jo Skinner, Lauren Dunne, Kylie Harbour, Jo Ashgrove and Carol Brown. Junior runner, Layla Sanders had an exceptional race over the two loop 4.9km course ahead of her more fancied rivals.
Runners are now looking forward to this weekend's Forsyth Accounting 5km Junior and 10km Senior Club Championship race from Queens Park. Members are expected to wear their race numbers and timing chips and be registered with the timekeepers 10/15 minutes prior to race gun time at 4pm. Casual runners are always invited to run with the club for a small day fee of $10. Runners are then invited to stay post-race for cash random draw prizes courtesy of long time generous supporter, Forsyth Accounting.
Many thanks to race day volunteers, Julie Whibley, Jo Skinner, Craig McGahey, Tim Caddy, Peter Wright, Andrew Short, Tim Magoffin, Arthur Dick and Graham Robinson.