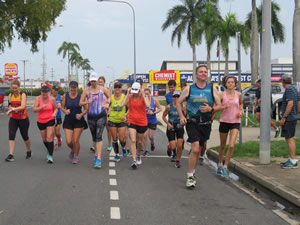 Mackay Road Runners endured extremely humid and oppressively stormy conditions at last Sunday's 'guess the distance' event commencing 5.30pm from the Memorial Pool, Milton Street. Nearly thirty runners bravely challenged themselves to tackle the tough headwind on the outward journey on the Bluewater Trail, however, the expected much anticipated tailwind was nowhere to be felt on the return trip.
Depending on the distance chosen, runners enjoyed the out and back course which included the beautiful scenic vistas of the meandering Bluewater Trail, Bluewater Quay, Sandfly Creek Trail and beyond to the Town Beach Esplanade. Excellent running by Carl Pinkstone who easily completed the long distance course followed by an avid array of talented runners, including Katie Bebendorf, Rickie Parker, June Bradley, Noel Barnett, Carolyn Steginga, Tim Caddy, Craig McGahey, Dee McMurtrie, David Isbister, Jose Short, Glenys Forse, Lisa Davis, Jo Skinner, Brenda Windsor and Carmel Mahon.
Congratulations to June Bradley for winning the coveted prize for being the closest to her pre-race estimate of the course distance. In addition, many thanks to Club Captain, Jim Ford for organising the prizes, the event as well as supplying post run fruit/lollies.
A hearty congratulations to New York Marathoners and Mackay Road Runners Club Members, Di Clulee and Jenny Harmer who successfully competed in the largest Marathon in the World. Both girls thoroughly enjoyed themselves as they completed the 42.2km course with ease as well as celebrity spotting at the same time….as you do!!!
This Sunday's social off season training run commences 5.30pm from the Harbour Surf Club. The course promises some testing surfaces as runners head south down East Point Road to the mouth of the river before tackling the Harbour Beach and Breakwater on the return. Runners are requested to ensure they are fully hydrating throughout the week and on race day so that they can enjoy the social event in the predictably warm conditions.
Non-members and members are most welcome to attend any of the off season, casual and very social training sessions with a gold coin donation at Sunday's run to go towards post-race refreshments. Mackay Road Runners also meet at the Bluewater Quay at 6pm every Wednesday.