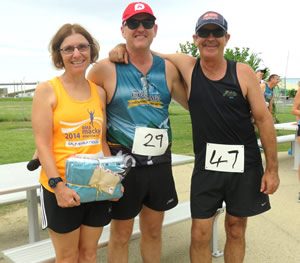 Last Sunday, approximately eighty runners delighted in the cloud covered 5km & 10km Martel Marina Sprint, named after Mackay Road Runners Club Life Member and running legend Charlie Martel. Club President, Tim Magoffin, welcomed the many new and returning runners to the second run on the formal 2017 Mackay Road Runners program, which goes from February to October.  The social 5km & 10km events commenced 5.30pm from the Harbour's Old Mulherin Park/Marina boat ramp precincts in very humid conditions with imposing rain clouds on the horizon.
Ashlee Scott led a quality field of runners to take out the 10km event in the two 5km loop course in an exceptional personal best time of 39 minutes 12 seconds.  Ashlee has previously shown sensational form in the shorter distances, however since stepping up to the longer events, she has proven to be an outstanding, talented and versatile runner. Ashlee is looking forward to testing herself on many of the Mackay Road Runners' weekly running events this year, which vary in distance from 1.6km to 30km. In the male section, Julian Picot continued his fine form to smash the ten kilometre run ahead of big improver, Carl Pinkstone.
Mackay Road Runners Timekeeper, Brendan Bishop had a tough job on his hands trialling the new computerised timing chip system, especially as the stormy conditions escalated with thunder, lightning and eventually, rain, as he, his family and several roadrunners were there until the final runner crossed the line.  Mackay Road Runners are very fortunate to have Brendan take over the arduous role of timekeeping from previous timekeeping guru, Andy List, therefore, all runners are requested to be patient and understanding as the new system is implemented.  Runners are also reminded to listen extremely carefully at every race briefing given by the Race Director, as there will be important notices and information that must be adhered to, including the new timing rules and regulations, course descriptions, volunteer rosters, road safety, hydration, upcoming events, etc…. Many thanks to all race day volunteers, including race setup/pack up, timekeeping, registrar, merchandising, course marking, etc….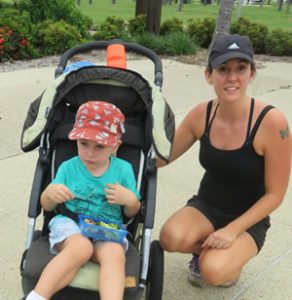 Volunteers from the Park Run organisers, Mackay Road Runners and the Leukaemia Foundation's BMA Mackay Marina Run Committee are hosting the weekly 5km Park Run from 7am at the Botanic Gardens, West Mackay.  All runners and walkers are welcome to participate in the no cost, social activity which is a great community event for everyone.  This event will be a great introduction in the lead up to the Mackay Marina Run's Twilight Launch 5km run in the City Cinema City Centre on Friday 3rd March at 6pm.  The Mackay Marina Run Twilight launch run is an excellent opportunity to commence your fitness regime in time for the main event, the BMA Mackay Marina Run on 4th June. An unbelievable amount of time, planning and preparation goes into the event by the hardworking committee, who meet regularly during every month from June to June. Entrants and volunteers are asked to start getting involved and motivated now, as the event is one of the most successful regional events on the running calendar.  The BMA Mackay Marina Run committee are very grateful for the generous long term support of Event Sponsor, BMA, as well as various Race Sponsors and in kind sponsors…..there would not be an event without them!  The Leukaemia Foundation encourages as many people as possible to make their fundraising goals the biggest and best yet so that the Foundation's valuable and costly work can continue to support the local community.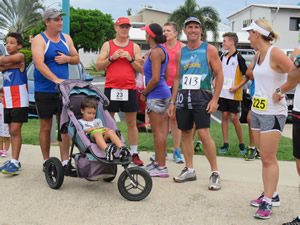 This Sunday's Mackay Road Runner's event will be the much anticipated annual Tilse Toddle 5/10km from 24 Johnson Street, West Mackay, commencing at 5pm.  Conditions have known to be variable from year to year, therefore, runners are advised to expect anything, ie heat/humidity/rain, after all it is summer and February!  Due to the large number of runners expected, runners are urgently requested to arrive at least 30 minutes prior to racing as the registration timing iPads will be strictly cut off ten minutes prior to race start, thus allowing our valuable volunteers to warm up for their run.  Runners are required to wear their race number on the front of themselves, as there is a GoPro camera at the finish line ie assists timekeeper should he experience any issues confirming runners' finishing order.  Runners must be mindful of parking obligations as this is a residential suburban street with an awesome neighbourly reputation.
For further information, visit Mackay Road Runners online and register now to become a Member for a very reasonable fee ($57 seniors – 18yrs to whatever!; $24 juniors – 12-18yrs).  Unfortunately, as in past years, there is no Family membership fee, just individual fees, due to new guidelines handed down as per our affiliation with Athletics North Qld. Becoming a Member by 28th February entitles you immediately to Handicap and Club Championship points which go towards coveted end of year open and age category trophies. Join now!