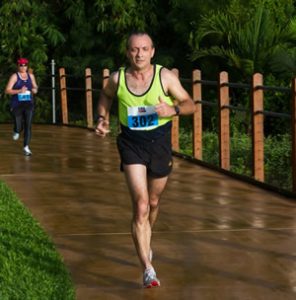 The much anticipated annual BMA Mackay Marina Run in support of the Mackay Branch of the Leukaemia Foundation is only a few days away, with thousands of runners already nominated in events from three kilometres to 21.1km.  Race Ambassadors, Steve Moneghetti and Mackay's home grown running legend, Benita Willis will be mingling with runners and supporters from Friday's evening's 'meet and greet' at the Ibis Motel, through to Saturday afternoon's race bag collection and of course, race day!
However, to secure your place at the Friday night event and race registration, go online now, as online race registrations close Friday afternoon. Those who wish to still nominate to run will have to present themselves at the Marina Restaurants carpark precincts  from 12pm to 5pm. Please note to bring cash as EFTPOS facilities will not be available and your race shirt size is not guaranteed.  There will be no late nominations accepted or race bag collection on race day due to race day logistics.  Check out relevant and very important information www.mackaymarinarun.com   including course maps, parking, start times, presentations, etc.
Mackay Road Runners would like to extend their warmest wishes to Sandy, Allyce and Brenton Marchetti, June Hackett, Janelle & Paul Tilse and family, Jo & David Hughes and extended family and friends for the tragic loss of their beloved husband, father, brother, brother-in-law and uncle, who passed away whilst attempting to summit Mt Everest last week.  Among his many attributes, Frank was an excellent runner and the BMA Mackay Marina Half Marathon was one of his favourite local events.  Frank's unique attempt at securing the lead for as long as possible to the first roundabout in the Half Marathon has been legendary throughout the Event's history, however, to the many of us who know and love him, his personal goal in achieving this, as well as running his quickest ever first kilometre was a goal he set himself every year. Many a southern running star has  been stunned by this "unknown's" lightning bolt start and short-lived lead.  It goes without saying his awesome personality will be sadly missed in so many sectors of the local community, as well as interstate, nationally and internationally. His involvement in so many areas allowed him to express his challenges and goals like no other……bye Frank……love you lots!