Mackay Road Runners' first formal run on the 2017 program was held in oppressively humid heatwave conditions from the Mackay Marina Lighthouse. Approximately seventy runners enjoyed the social 5km run onto the Breakwater wall's outer perimeter from the Marina boat ramp parkland precincts. Club Captain, Jim Ford was on hand to welcome many new and returning runners prior to the race start.  He advised members to register online before the end of February and to sign in on race day on at least 10/15 minutes prior to the race start, otherwise their time and points will not be registered on the formal results once the handicap point's races commence in a few weeks' time.   Runners are urgently reminded to ensure their hydration and refuel intake prior and post-race is an important element of their training schedules. Whether runners are fast/slow/serious/casual, this is vital to their performance and recovery, not just on training/race days but for future body healing.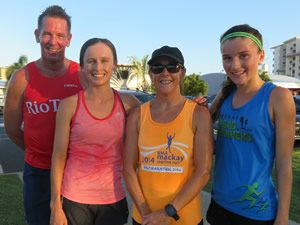 New runners who showed some excellent form included Mark Takagaki, Matthew Smith, Wayne McMurtrie, Jenny Smith, James Wortley, Madeline Price and Carolyn Steginga as well as returning runners, Peter Wright, Anthony Blines, Erin Safe, Joshua Bornman, Kristian Safe, Scott McIntosh, Alana Ford, Jose Short, Judy Zahn, Stuart Sprott, June Bradley, Anna Walsh, Derek Woods, Carl Pinkstone, Julian Picot, Leon Barben, Jo Skinner, Andrew Wallace, Paul Arvidson, Andrew Short, Ashlee Scott, Rachel Silvestri, John Rodden, Robyn Madill, Hayden Connor, Sarah Jensen and Charlie Bone.
This Sunday's 5/10km social run commences 5.30pm from the same location ie Old Mulherin Park at the Marina Harbour boat ramp carpark precincts.  All runners are urged to arrive at least thirty minutes prior to the scratch start so they can sign on and warm up in plenty of time for the volunteers to do likewise, as the cut-off time will be strictly ten minutes before the gun.  Please note to bring your own hydration requirements, however, water is available at the start/finish.
Many thanks to all the Mackay Road Runners who volunteered at the hugely successful Mackay Regional Council's Sports Expo and Sign on earlier in the day, especially Paul and Ryan Tilse who set up the day before and early on Expo day, as well as packing up after the event in the heat of the day.  The heat was a massive barrier for them and Mackay Regional Council's Ken Furdek and Mark Sleeman as they hauled several very weighty sandbags to ground the unmissable Mackay Road Runners blow-up arch anchored for the day at the Expo entry. Congratulations to Mackay Regional Council's staff including Ken, Mark, Karen Young, Linda Single, Donna Spada and Robert Ryan for organising another special event for the Community.