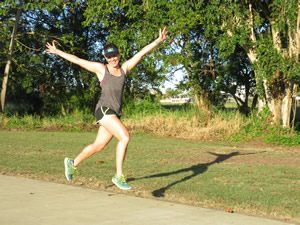 Approximately thirty Mackay Road Runners enjoyed a very social Magpies Meander 4.5km & 9km run from the Magpies Sporting Club carpark precincts at 4pm last Sunday. Club President, Tim Magoffin welcomed the athletes to the annual event whilst a huge contingent of local runners attended the Airlie Running Festival and Secondary School State Cross Country Championships.
Cool conditions met the runners, however, it warmed up quickly as runners meandered via the off road pathways from Magpies beside the beautiful Gooseponds parklands and waterways. Josh Bornman lead the 4.5km from the gun, although Paul Tilse did have the jump on him at the start line, but not for long. Jamie Bornman was outstanding for the girls in the shorter distance ahead of a quality field. Excellent running included athletes,  Colin Hardy, Jo Hughes, Peter Ford, Paul Tilse, Emma Goodman-Jones and Jim Ford.
In the 9k event, Alana Ford warmed up quickly after a cold start, sprinting to cross the line first for the girls, with  Ashleigh Davies easily co-ordinating a star jump whilst running, chatting to the photographer and smiling….all at once! Carolyn Steginga continued her excellent form, completing the 9km event in awesome style ahead of Jo Skinner, Jose Short and Carmel Mahon. Russell VandenBosch ran extremely well with his barefoot shoes and his bare feet throughout the 9km event, followed by Craig McGahey, Peter Wright, Tim Magoffin and Daniel Stampa. Well done to Craig McGahey and Jo Skinner for backing up after their half marathon efforts at Airlie earlier in the day.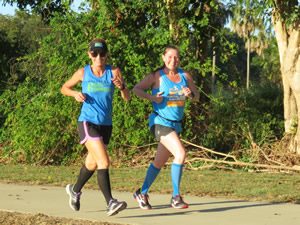 Congratulations to the Airlie Running Festival runners, who had to contend with very warm conditions  throughout their events, including the Marathon, Half Marathon, 10km and 5km. Excellent results were posted by Marathon runners, Brenda Windsor, Mark McFadzen and Tim Caddy, as well as Half Marathon runners ex local Peter Moore (2nd):  one whom we call a local, Hamilton Island's Stephen Jackson (3rd); Mackay's Greame Harris (11th), Michael Feenaghty (12th), Lindsey Wiggins, Craig McGahey, Martin Lambert, Scott Todd, Jo Skinner, June Bradley, Vicki Vickers, Marie Muscat, Alex Anderson, Debbie Joynson, Julie Whibley and Chris Banney. Ashlee Scott was super sensational taking gold and 4th overall in the 10km event, with Shawn Claydon also taking home some silverware, collecting 3rd for his efforts in the 10km.  Not to be outdone, talented veteran runner Ricky Parker scored a sizzling second place ahead of a huge field of quality junior and senior 5km runners. Emma Goodman-Jones also conquered the heat and the 5km course by placing 6th female and then warming down with a 4.5km run with Mackay Road Runners in the arvo.
Results were not to hand at time of printing for the junior runners competing in Brisbane at the State Secondary School Cross Country Championships, however, there were many Mackay runners in attendance competing against the State's best. The writer looks forward to hearing the eventual results for possible publication next week.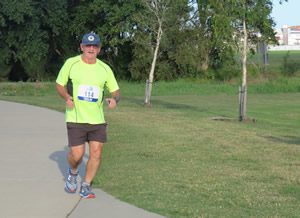 Out of town and local runners and cyclists are looking forward to this weekend's Podiatry Mackay/Laura Pettifer Inspirational Trophy Junior (3.2km) King and Queen of the Mountain and the 6.4km MTest (run) & Mackay Tyrepower (cycle) Eungella King and Queen of the Mountain at 8am this Sunday.  There is a first time incentive of a $500 cash bonus by an unnamed Running Member to the male and/or female runner in the 6.4km foot race if the 1991 records are broken. This is in addition to cash prizes by MTest Mackay. The records have been set by Mackay running legend and thirteen time race winner, Charlie Martel in a VERY quick time of 27 min 51 sec and Townsville's Alison Wilson (34:55). The running event doubles as the Mackay Road Runners Junior and Senior Club Championship as well as being an integral, unique and historical run which has been part of the community for over thirty years.  Junior runners will start their event half way up the Mountain with the first male and female taking home the coveted Laura Pettifer Inspirational Trophy as well as cash prizes from Podiatry Mackay.  The passing of multi-talented athlete, Laura Pettifer in 2008 whilst on a cycling training session was devastating to the local community as well as interstate and abroad among her family, friends and colleagues. Laura was the 2008 Queen of the Mountain and her legacy continues with the donation of sports vouchers and a perpetual trophy for junior runners from her mother, Veronica.  Many thanks to all of our awesome long standing sponsors and supporters, Finch Hatton Police, MTest, Mackay Tyrepower, Eungella Chalet (Tess & Tony), Podiatry Mackay, Veronica Pettifer and Maz Wright (local produce). All competitors are advised to be registered by 7.45am at the latest at your individual tables at Netherdale ie Mackay Cycling Club, Mackay Triathlon Club and Mackay Road Runners Club. As this is a point to point one way race and the road will be closed for one hour, supporters and competitors need to ensure their vehicles are at the top before road closure by the Police. To stay in the beautiful Eungella region, please make a weekend of it and book accommodation via one of our proud supporters, The Eungella Chalet ph 4958 4509 or info@eungellachalet.com.au. All runners and cyclists are very welcome to participate, no need to be a member of our Clubs – $10 seniors & $5 juniors.