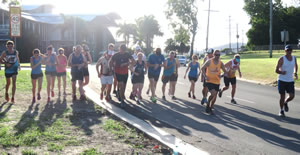 The humid conditions did not deter over thirty Mackay Road Runners at their social summer Magpies 57 Minute challenge from Magpies Sporting Complex last Sunday afternoon.  The Jim Ford designed course had runners tackle the meandering roads and walkways of the Glenella and North Mackay suburbs towards Harbour Road. As usual, Jim considers and caters for a variance of running abilities, therefore, there were many options offered from 5km to 10km.
Over thirty runners sprinted from the gun in a bid to reach the crucial turnaround point before they turned for the finish line in a bid to clock a time closest to the fifty-seven minute barrier. Runners performed extremely well in the challenging conditions including junior talented runners Jamie Sanders, Rachel Silvestri and Layla Sanders amongst the more experienced competitors of Julian Picot, Tim Caddy, Jim Ford, Ross Connor, Carl Pinkstone, Lindsey Wiggens, Stephen Oberg, Carmel Mahon, Andrew Short, John Rodden, Emma Goodman-Jones, Robyn Madill, Alana Ford, Jo Hughes, Sandra Henderson, Cath Riggs, Melissa Harris and Peter Ford. Many thanks to Jim Ford and Alana Ford for their sensational work setting the course, post-race refreshments and prizes.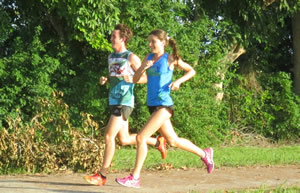 Mackay Road Runners remind all runners, members and their supporters that the Club's Annual General Meeting will be held Monday 30th January from 5.30pm at The Grove, Andergrove Rd. Please give serious consideration to any assistance in the ongoing success of maintaining the Mackay Road Runners Club's awesome reputation and standing as one of the most respected sporting clubs in the community and wider region.
Member registration is now open – please register via the registration page on the website.
Website will soon be updated with current information for 2017 including the formal weekly 2017 Program of events:-
Annual Membership Fees for 2017 – $57 for Senior Member (18 years and over); $24 for a junior Member (12 – 17 years); Volunteer Member – no cost but please register.
Please note Wednesday social 5km runs are back to 6pm at Blue Water Quay; 5am Saturdays are continuing from Parkside Plaza, followed, of course, by coffee!!
Interested new/existing runners are advised that Mackay Road Runners will be once again on full display at the Mackay Regional Council's Sports Expo and Sign-on at the MECC on 12 February from 9am to 1pm. The unmissable Mackay Road Runners Start/Finish blow up arch/flags will be in full view…..all invited to have a chat to the friendly Mackay Road Runners group, as they look forward to YOU including them in any of your health, fitness or possibly a voluntary support role for 2017.