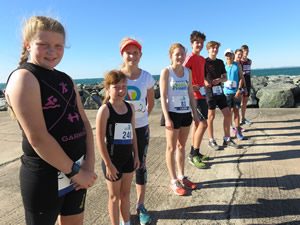 Mackay Road Runners held one of its Signature and Club Championship events, the prestigious annual Magic Mile, from the beautiful precincts of the Mackay Marina.  Race Hosts, North Queensland Bulk Ports, were sponsors for the senior 1.6km event, also ensuring the Breakwater was closed for the setup and duration of the race which was a point to point course on the Breakwater. Podiatry Mackay's Donald Orr, who is a major long term supporter of the Club's junior events, was once again, the awesome sponsor for the under 13 & 18 junior races.  Donald was on hand to present the junior race prizes to the boys and girls together with, North Queensland Bulk Ports (NQBP) General Manager Trade & Operations, Brendan Webb & Regional Stakeholder Ingagement Advisor, Emilie Pershouse who presented the senior winners' prizes.  Mackay Road Runners 1992 race recordholder of four minutes 22 seconds, legendary local runner, Charlie Martel was a special guest at the iconic race presentation.  Charlie, who has just moved back to Mackay from several years hiatus in Brisbane, was not well enough to run today, however he and his children Miles and Kayde, were avid supporters of the runners.  Charlie retained his excellent form by being second last to leave the event, usually remembered as being last.  Charlie was keen to pass the baton to Ashlee Scott, however she was way too quick for him!
The Senior NQBP Mackay Road Runners Magic Mile was won by Julian Picot in a sensational time of four minutes 47 seconds ahead of fast finishing Daren Galea (5:15) with Ben Saxon only five seconds in deficit to claim the final podium placing.  Previous Magic Mile winner, Shawn Claydon settled on a fourth placing, seven seconds ahead of Mark McFadzen with first female Ashlee Scott a further three seconds back.  Ashlee's exceptional form scored her victory for the girls in five minutes forty seconds even, one minute ahead of big improver, Carolyn Steginga (6:44) and Emma Goodman-Jones (6:48).  Other previous Magic Mile champions, Carmel Mahon was relegated to fourth by only one second with Judy Zahn fifth (7:04).  Outstanding performances were on show across all athletes in the extremely testing conditions which were very breezy to say the least – those included Scott McIntosh, Carl Pinkstone, Matt Graves, Tim Caddy, Anthony Blines, Mitchell Thompson, Andrew Wallace, Greame Harris,  Rowan Barratt,  Ross Vickers, Michael Barratt, Jose Short, David Isbister,  Alan Zamparutti, Stuart Sprott, Jenene McLennan and Dannelle Thompson. The coveted Magic Mile 1.5kg Milo prize was awarded to Cilla Martland for her excellent performance in the trying conditions…..home for a warm drink with marshmallows…YES!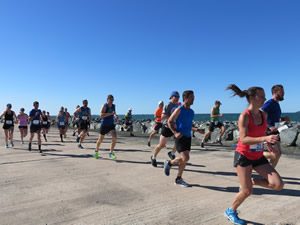 The Podiatry Mackay Junior Magic Mile winners were ecstatic with their efforts and their prizes as presented by sponsor, Donald Orr. The under thirteen winner, Will Morgan was in sizzling form taking gold in the sixteen hundred metre race in five minutes 39 seconds. His performance should be a great confidence booster as he heads into competition this week in Emerald for the Secondary School Capricornia athletics trials.  Josh Bornman (5:31) held off Simba Walz (5:46) and Finn Zamparutti (5:57) to take maximum club championship points in the under 18 male section, whilst, Josh's sister, Jamie equalled his placing, taking first ahead of Lauren Morgan. Under thirteen girls went to a talented trio consisting of Paige Stolberg, who was first out of the under 13 and under 18 girls and fifth overall junior, followed by sibling, Lara Stolberg and Jess Harris.
Many thanks once again to the race sponsors, NQBP and Podiatry Mackay, Mackay Road Runners race day volunteers, Tim Magoffin, Andrew Short, Brendan Bishop, Sandra Henderson, Jose Short and Mark Walz who were all integral in the success of the event.
Best wishes to the Club's Junior runners travelling to Emerald this week for the Capricornia Secondary School Athletics Titles. Rachel Silvestri will be one of the talented crew competing after a very successful silver medal win as part of the Queensland Team at the National Cross Country Titles in Tasmania last week.
This Sunday's Mackay Road Runners 5/12km event commences 4pm at Merv & Wendy's residence at 21 Karl Langer Crescent, North Mackay.  The Club's Life Members are very loyal and long standing Members and Sponsors of the Club, with both being awarded Life Membership several years ago. Merv & Wendy have hosted the annual race from their home for many years and is a much anticipated event, not necessarily for the running but for the post race refreshments that everyone is welcome to partake in.  All runners need to be registered by 3:50pm at the latest with timing chips and race bibs attached so that the computerised timing system can be readied for handicap start racing commencement at 4pm sharp.