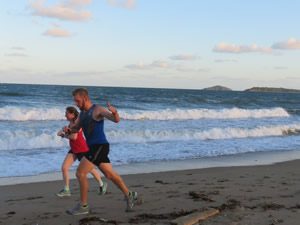 Mackay Road Runners casual social off season training group met at the Mackay Surf Club to tackle a challenging 5.5km & 11km run South along East Point Road and return via the sandy shore line and Breakwater wall.
Approximately twenty runners enjoyed the very cooling sea breezes as they set off at 5.30pm toward the river mouth before returning via the testing angled 3km beach stretch at full tide. The soft sand did nothing to deter runners enjoying the awesome conditions and well earned post run refreshments.
Despite riding from South Mackay to the Harbour and slotting in a short 'run' before the 'run', Carl Pinkstone easily lead the field from the gun to complete the 11km run course in style. Matt Graves was a close second, although he was distracted near the finish line whilst his young family cheered him on. Excellent running also came from Carmel Mahon, Mitchell Thompson, Carol Steginga, Rod Yates, Peter Ellison, Stephen Oberg, Kelly Bebendorf, Alan Zamparutti, Dave Isbister, Tim Caddy, Mark Takagaki, Lindsey Wiggins and Jenene Mclellan.
After a well earned recovery, Carol Brown had a sensational run after completing the Blackall 50 Ultra Marathon a few weeks go. Carol enjoyed the Blackall 50 event so much, she was still glowing in her praise for the event organisers. Carol collected a bronze medal in her age category, which was an unexpected reward for all her hard training. Carol quoted the conditions as being extremely tough, especially towards the later stages of the race when bad weather set in, making the final 10km very challenging. Although, Carol did experience some mentally testing moments throughout the race, as you do in Ultra's, the pre race inspirational words given to the competitors by an Aboriginal Elder played a major part in getting her to the finish line…..Congratulations, Carol, on your awesome achievement……great to see how uplifting running is to you…..keep sparkling!
Meanwhile, locally, many thanks to race day marshalls Andrew Short and Jo Hughes who assisted the fill in Race Director, Janelle Tilse, whilst the 'real' Race Director, Jim Ford, was out of town. Thanks heaps to the many generous runners and their families who have supported the Club's charity food hamper by donating non-perishable items to be distributed via the Salvation Army Christmas Appeal by the Club Secretary, Alana Ford. Final donations will be collected at this Sunday's run at the Hibiscus Shopping Centre, Bucasia so that items can be handed out to worthy recipients before Christmas…..thank you Alana for your initiative in getting this organised.